Boney M featuring Maizie Williams
Boisdale Of Canary Wharf, London.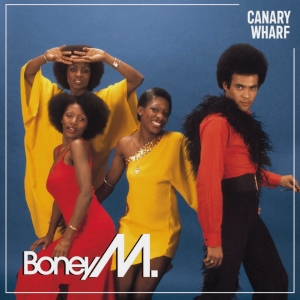 More information about Boney M featuring Maizie Williams tickets
"Daddy Cool", "Ma Baker", "Sunny", "Rasputin", "Mary's Boy Child – Oh My Lord" and "Rivers of Babylon"

Boney M with more than 150 Million records sold including Brown Girl in the Ring, Daddy Cool, Rasputin, Sunny, Ma Baker, Belfast, Painter Man, Hooray Hooray it's a Holiday and the iconic Rivers of Babylon/Mary's Boy Child, the second highest-selling single in the UK.
Time Out Magazine calls Boney M "One of the Premier Disco Supergroups Of All Time"
Everyone knows the name. Everyone knows at least one of their songs. Now meet BONEY M – featuring Maizie Williams.
Maizie, original singer from the very birth of BONEY M, is now joined by three dynamic singers who are celebrating the success of the second BONEY M re-mixed album, "THE GREATEST HITS OF BONEY M", which included 14 tracks of the best loved songs and was re-mixed by the original founder of the group, Frank Farian.
It was obvious from the vast number of record sales that the magic of BONEY M was still there and now being enjoyed by a new generation. Maizie thought it was time for this new audience to see the energy that goes with each and every one of the group's songs, and decided that they would tour. Audiences in Russia, Thailand, Hong Kong, Japan, China, Australia and many other countries have since thrilled to the energetic visual performances of all the well loved songs.
Maizie, most definitely the M in BONEY M, and the group have revitalised the songs while keeping the same lyrics, giving them a new and modern sound that will have all generations tapping their feet and moving to the new funky beat.
So get ready to sing and dance along to their amazing repertoire, which includes ten top ten hits "BROWN GIRL IN THE RING", "MA BAKER", "RIVERS OF BABYLON", "DADDY COOL", "RA-RA-RASPUTIN", "SUNNY", "BELFAST", "MARY'S BOY CHILD", "PAINTER MAN", "HOORAY HOORAY IT'S A HOLI-HOLIDAY", and have a great time!
*Please note your dining time is 7.00pm (Excluding lounge tickets) - if you wish to change this to an earlier or later dining time please contact our reception team after you have purchased your tickets on 0207 715 5818 or email reception@boisdale-cw.co.uk attaching your ticket.
ABOUT THE VENUE:
ABOUT THE VENUE:

Jools Holland, Boisdale's Patron of Music presents the best in jazz, blues and soul.
About the venue: https://youtu.be/SJhROJnoJLQ

Boisdale of Canary Wharf is a two-floor venue overlooking Cabot Square which comprises a restaurant, four private dining rooms, Oyster Bar & Grill and Cigar Terrace, the world's greatest Whisky Bar, and the best live music in the capital.

"London's number one jazz venue" Tatler
"Best Whisky Bar in the World" Whisky Magazine
"A carnivore's dream" Evening Standard
"Aged steaks are deemed incredible" Square Meal
"The world's most individualistic style bar & restaurant" Hot Tickets

FOLLOW US:

Facebook: https://www.facebook.com/BoisdaleRestaurants
Twitter: https://twitter.com/boisdaleCW
Instagram: https://www.instagram.com/boisdale_uk/