Box Set - JAWBONE
Genesis Cinema, London.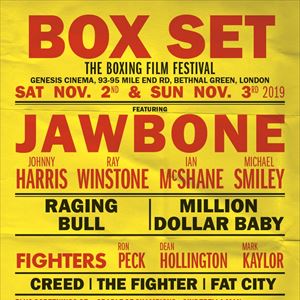 More information about Box Set - JAWBONE tickets
BOX SET: THE BOXING FILM FESTIVAL presents JAWBONE
Starring: Ian McShane, Ray Winstone, Michael Smiley, Johnny Harris.
Director: Thomas Napper // 91 minutes
Q&A with Ray Winstone, Johnny Harris, Michael Smiley, Mike Elliott. Hosted by Steve Bunce.


Nominated for a BAFTA for Outstanding Debut by a British Writer
'The film was always going to be about boxing and addiction' Johnny Harris
"Boxing as metaphor for internal battle is hardly new cinematic ground, but there are good reasons why it's perennial. The damaged person inside the fighter offers endless character possibilities and there are few action sequences more brutally exciting than a good boxing match. As a team, Harris and first-time director Thomas Napper mostly nail both aspects. It helps that Napper has largely cast to type so there's a character shorthand that exists. Ray Winstone is the hard-but-fair gym owner Bill, who's the only person Jimmy is subservient to. Michael Smiley is Eddie, the trainer who is equally moved and infuriated by him. Ian McShane is the very Ian McShane-y Joe, a gangster who lines Jimmy up with an unlicensed fight. We get to know Jimmy through one-on-one conversations that reveal history, fears and small hopes without often being simply expository. Napper is keenly focused on the details of these men's lives, tiny moments saying much about them. Bill keeps his gym and clothing neat and clean, a controlled man in a brutal world; nurturing Eddie is slow and meticulous in wrapping his fighters' hands; Jimmy jumps at trouble like a mistreated dog.

There's much that could be said about Harris' physical transformation. He's barely recognisable initially, his beardy everyman look sweated and shaved off to leave something hard and sinuous, but it's the change as an actor that's more notable. He's comfortably a leading man, in the sense he can easily carry a film - there's not much chance we'll see him heading up romantic comedies or squeezing into superhero tights. Anybody who's seen him on screen won't feel any surprise that he has the talent to take on more than smaller ?character actor' roles, but there's such pleasure in seeing how confidently and effectively he moves into the spotlight. Star-making is probably the wrong term, given the glitzy future that suggests, but career-making it should be.

There is only really one fight, right at the end, and Napper gives everything to it. It's not graceful but visceral, crunchily edited from shots at every possible angle and distance. It's the hard, wincing assault of a man with nothing to lose. It hurts to watch. There is pain through every second of Jawbone, but it's pain worth feeling.
"As a writing debut for Harris and a feature-directing debut for Napper, this is extremely promising. As a role for Harris, it's a sign that a great British actor may have just hit his moment." Empire Magazine