Box Set - THE BOXER
Genesis Cinema, London.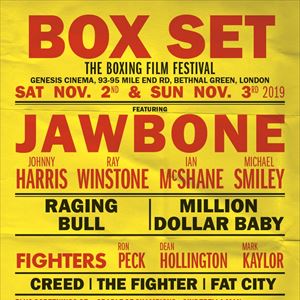 This event is for over 18s only - No refunds will be issued for under 18s.
More information about Box Set - THE BOXER tickets
BOX SET: THE BOXING FILM FESTIVAL presents
THE BOXER (1997)
Starring: Daniel Day-Lewis, Emily Watson.
Director: Jim Sheridan // 113 minutes
"Sheridan's fine, galvanizing film, which teams Day-Lewis in a love story with the magical Emily Watson of ''Breaking the Waves,'' shares that same yearning. Acknowledging the terrible toll that conflict has taken, the film wonders how to come to terms with so bloody a past. It frames the question starkly while avoiding easy answers, although the central metaphors of boxing and prison powerfully reflect a wider awareness of Belfast's plight. Each of the film's well-drawn characters is embattled or caught in various ways.
As written with blunt effectiveness by Jim Sheridan and Terry George (who also directed his own film on the Troubles, ''Any Mother's Son''), ''The Boxer'' reacquaints shy, lonely Danny with his long-lost sweetheart, Maggie (Watson), even as it re-involves him in the turmoil that sent him to jail. Local I.R.A. activities are presided over warily by Joe Hamill (Brian Cox), who is more amenable to peace negotiations than some of his terminally embittered underlings. It happens that Joe is also Maggie's fiercely protective father, and finds himself in a difficult position over Danny's return.
On one hand, Danny commands I.R.A. respect for having kept his silence in prison and not actually betraying his comrades. On the other, Maggie is now the disaffected wife of another prisoner, an old friend of Danny's, and standing by one's man is treated as an absolute necessity in I.R.A. circles. Early in the film, one man is threatened for even dancing suggestively with a prisoner's wife. Later on, Joe warns his daughter about Danny: ''You have to get rid of him, or you're going to find him in a pool of blood.''
The film's dialogue is often as hardheaded as that, but its impassioned acting creates greater subtlety. Day-Lewis, looking wearily rugged and battling his way through several plausible boxing matches, once again breathes fire into the character of a high-minded loner, and his vitality lends real force to the film's moral arguments. Emily Watson beautifully conveys all of Maggie's melting ambivalence about a man who has been gone 14 years (but who turns out, after all, to be Day-Lewis in an ardent mood).
These two performances are so stirring, in fact, that the film can afford
to let Maggie tell her father: ''I'm the prisoner here. You and your politics have made sure of that.'' Or to let Danny say: ''Fourteen years I was locked up, and my feelings were locked up inside of me. And now when I get back in the ring again, you can't imagine what a relief it is to feel the pain, to be back in the world again.''