Budapest Naval and Ship Museum entrance ticket
Lajta Museum ship, Budapest.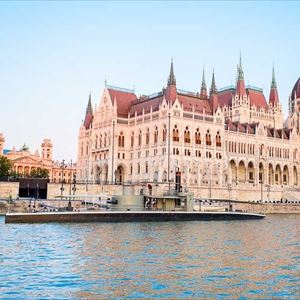 Meeting point: Front of the Parliament
GPS: 47.5051738,19.0446353,17.28
After you buy, click Split It With PayPal

to easily split ticket money with friends.
More information about Budapest Naval and Ship Museum entrance ticket tickets
See Budapest in a bright new light and explore its treasures on an illustrious day!
Explore the world's oldest remaining monitor ship right next to the House of Parliament, the Lajta Monitor Museum Ship! This once deadly metal giant was built in 1871 and has been floating on the Danube ever since although it hasn't been causing much trouble lately. Enjoy its imposing sight with your own two eyes from inside and outside on an in-depth smartphone-guided tour where you can learn about the stories, the Lajta is not able to tell you itself. And believe us, this old veteran has gone through some breathtaking adventures back in its days.
As a complimentary bonus to your ticket, you will receive free passes to two additional historic Danube ships as well with their own stunning exhibitions inside. Board a 100-year old steamboat, the Kossuth Museum ship and the Gróf Széchenyi Event Boat, the single functioning paddle wheeler in Budapest to satisfy your naval curiosities!
By purchasing the entrance ticket of Lajta Monitor ship you donate the maintenance and renovation of old, historic ships.
Includes:
Entry to the Lajta Historic Warship with smartphone guide (download the app or read the descriptions on the wall, between 10:00 and 18:00)
Free passes to two additional historic Danube ships:
Kossuth Museum ship (visiting hours: 12AM-22PM)
Gróf Széchenyi Museum Ship (visiting hours: 10AM-13:30PM)
(The Gróf Széchenyi is an operating event boat and it is only available for visits when not in service (usually between 10:00-13:45 daily))
Top up your Naval and Ship museum ticket with 1.5 hour long Lunch & Cruise ticket from 2pm or a 2 hour long Dinner & Crsuie with live music from 7pm or enjoy a traditional Hungarian Folklore show from 8pm in the evening!
If you booked cruise or show as well along with your booking:
Meeting place is Danube Palace, Zrínyi Street 5. 1051.
Meeting time if the Lunch & Cruise booked 13:30 (44 EUR)
Meeting time if the Dinner & Cruise booked 18:30 (56 EUR)
Meeting time if the Hungarian Folklore show booked 19:30. (28 EUR)