Burn the Floor with Kevin Clifton & Joanne Clifton
Assembly Hall, Tunbridge Wells.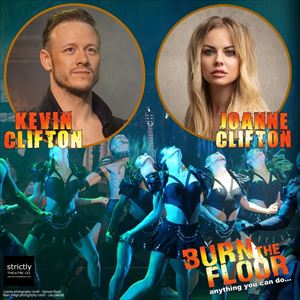 Running time: TBC
---
For specific access requests including wheelchair bookings or general access information please contact the Assembly Hall Theatre Box Office direct on 01892 530613 (Mon to Fri, 9am - 5pm / Sat, 12pm - 5pm).
---
For evening performances you can pre-pay for parking in Crescent Road car park from 6pm on the day of the show. Use the RingGo app, website or phone number with location code 28507 to avoid queuing for the car park payment machines.
More information about Burn the Floor with Kevin Clifton & Joanne Clifton tickets
Kevin Clifton is back with the Burn the Floor cast in 2020... and this time Kevin will be joined by his sister, Joanne Clifton!
After the sell-out success of the first ever UK tour of Burn the Floor in 2019, this 5 star production is set to return with a new show.
The famous siblings will tour together for the very first time and will play on their individual successes in an 'Anything You Can Do…' inspired them. And what better way to do it than in the world's leading Ballroom show Burn the Floor!
In the past two decades Burn the Floor has revolutionised Ballroom style. Combining jaw-dropping choreography and ground-breaking moves, Burn the Floor brings their famous, infectious and rebellious energy to the stage every single night in the UK, starring Strictly Come Dancing champions Kevin Clifton and Joanne Clifton.
From seriously romantic Waltz, to a futuristic Foxtrot, the passion of the Tango and Paso Doble cut right through. You will revel in the emotional power of the Cha Cha, the Samba and Jive, and be left breathless by the smoking, irresistible Rumba.
With Kevin and Joanne headlining this electrifying production, along with lights, costumes and eclectic live music, it will have you leaping out of the seat to join in. Not just a "feel-good" performance, we are seriously a "feel-fantastic" show! Don't miss your chance to experience the pure dance joy of Burn the Floor.