Buzzcocks Tickets
Exeter Phoenix, Exeter.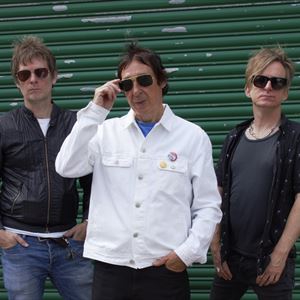 Seating is available for customers with access needs, please call the venue to book. 01392 667080 Opt 1
More information about Buzzcocks tickets
Pete Shelley and Howard Devoto formed Buzzcocks in Bolton in February 1976. The band, completed by the addition of Steve Diggle and John Maher, opened for the Sex Pistols in Manchester on July 20th, a follow up to the now (in)famous Lesser Free Trade Hall gig which Devoto and Shelley had organised the month before.
Few have had the longevity and sustained creative energy to produce the seemingly endless stream of truly original and fantastic pop songs that Pete Shelley and Steve Diggle have consistently delivered over the last four decades. Original and best.
With the untimely passing of Pete Shelley in December 2018, Buzzcocks will continue to record and play live shows with founding member, Steve Diggle, taking over vocal duties to front the band.
Steve has sung with the band from the very beginning, writing 50 songs, including hits "Promises", "Fast Cards" & "Harmony in my Head". He will be joined by the long term current line-up of Danny Farrant (Drums) & Chris Remington (Bass) performing all the classic Buzzcock hits & more.
A guest guitarist will be added to all live shows.
---
There are hardly any bands performing today that genuinely deserve the adjective 'legendary' Buzzcocks are one of those very few. Their achievements are staggering: one of the original holy trinity of British punk (with the Sex Pistols and the Clash), innovators of the independent record scene and genuine punk rock superstars who have been cited as inspirational by bands as diverse as REM, Nirvana and Green Day. Nine studio albums, over twenty singles and EPs, a constellation of compilations, covers by other bands and songs on film soundtracks and advertisements have put Buzzcocks among the top echelons of British recording artists. A Mojo Inspiration award in 2006 is just one of the many accolades they have received for their work.
Buzzcocks have been thrilling audiences for over thirty-five years. Once called 'the Beatles of punk', their music blends high-octane guitar, bass and drum power with heartrending personal statements of love won and lost or dismay at the modern world to create a unique catalogue of unforgettable and immortal music, music they continue to deliver to fans old and new around the world with undiminished passion and energy.