Cannon & Ball
VIVA Blackpool, Blackpool.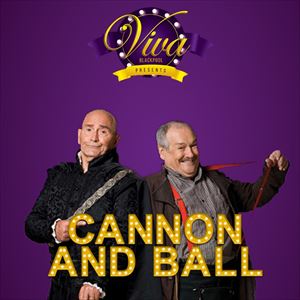 After you buy, click Split It With PayPal

to easily split ticket money with friends.
More information about Cannon & Ball tickets
You'll be clapping along to the music, stamping your feet to the beat and there'll be laughs a plenty.
Tommy and Bobby have carved their careers from decades of performances in all different types of venues. Their efforts paid off when they were at the top of their game in the 80s when no one could touch them. They had a hit TV series on mainstream television, Summer Specials, Christmas Specials, everyone wanted them, everyone loved them and they were everywhere you looked.
With a whirlwind career spanning the decades, these are two of the most hardworking men in the comedy business and they're loyal following they still boast to this day is well deserved.
Anyone who can remember the 80s will probably be able to name a favourite Cannon and Ball sketch from numerous appearances on TV, panto or stage shows across the length and breadth of the UK.
Laughter a plenty with Leye D Johns - appearing on both dates Join your host the outrageous Leye D Johns for an evening of pure escapism – with plenty of laughter with Leye, the very best guest vocalists and our beautiful Viva Showgirls on our unbelievable stage for a show which you're sure to love! A night full of fun with a dynamic mix of songs and routines – with literally something for everyone, whether you're 18 or 80 – it's all here and more with different packages to suit your style of night.
This is it, the moment you have been waiting for. Your big show night out! Be greeted by the team upon your arrival, don't worry about remembering your tickets, we have your name on our guest list.
Make your way to the first floor by the escalator, elevator or staircase. Be dazzled and amazed by the glitz and glamour of a Viva Showgirl and don't forget to smile as you pose for an optional photo with her. Excited to see it? We'll bring a copy over to show you shortly! Our friendly team will show you to your table, which is yours for the night. Now take your seats for a delicious 2 or 3-course meal as you wait for the show to start. If you haven't pre-booked a meal why not order a tasty treat from our Snack Bar which will stay open until 9pm.
We have a fantastic range of drinks available for you including Cocktails, Wines, Coffees, Spirits and Draught Beers. Place your order with your table host (they are the ones in the white shirts by the way) or head over to the bar which remains open throughout the performance and we sometimes love a little aftershow party so stick around for a nightcap!
The lights go down and the crowd falls silent in anticipation, it's 7.45pm and your adventure begins. The large state of the art LED screen on stage lights up and introduces you to Blackpool, the entertainment capital of the North. Enter stage right, your host, the outrageous Leye D Johns, (It's pronounced Lee by the way) will guide you through a night of incredible Vegas Style entertainment. Before introducing to the stage the Legendary Cannon & Ball!.
Stick around after the show, the cast stay on stage and you are invited to join them for a photograph before the stage becomes your dance floor as we keep the music playing!