CARING IS CREEPY 2019
Elsewhere, Margate.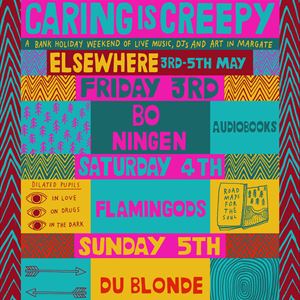 Venue is located in a basement without any wheelchair access.


14s - 17s must be accompanied by an adult. No refunds will be given for incorrectly booked tickets.
More information about CARING IS CREEPY 2019 tickets
CARING IS CREEPY 2019
3rd - 5th MAY
Bo Ningen * Audiobooks * Flamingods * Du Blonde + More Artists/DJs + activities TBA


FRIDAY 3rd MAY

Headlining the weekend's Friday night program and making their Margate live debut are Bo Ningen who embody today's art/music scene where crossovers of different cultures are flourishing. They are fusing disparate sounds and influences into a fierce, eclectic torrent of grooves and bringing them across the oceans.
This journey has been a success, attested to by support they garnered from musicians spanning a wide range of genres and generations including Primal Scream, Super Furry Animals, Kasabian, TV on the Radio, the Fall, and Savages to name a few. Their iconic look is only surpassed by their intense live performances, which have earned them a place as one of the most captivating live acts in the UK.
WATCH VIDEO >>https://www.youtube.com/watch?v=OmXQpGAclG4

Audiobooks arrive with songs that "are mind boggling. And make you want to dance" (- the Quietus). They are the synth duo made up of Evangeline Ling and David Wrench. Evangeline is a 21 year old art student and musician from Wimbledon and David is one of the most in demand mixers and producers in modern music, a sometime cohort of Julian Cope and former denizen of North Wales – they might seem an unlikely pairing. Yet a chance encounter at a mutual friend's party just oneweek after David had moved south to the capital very quickly led to an experimental studio session that's been going on ever since. Audiobooks released their debut LP via Heavenly Recordings in November of 2018.

WATCH VIDEO >> https://www.youtube.com/watch?v=wPpVH8AqfHQ

SATURDAY 4th MAY

Heading up Saturday's party are Flamingods. The London via Bahrain collective are known for their "psychedelic music for the soul" - (i-D Magazine). The five artists like to experiment with musical instruments that are sourced from around the globe and never fail to impress with their brand of exotic and at times trippy world music. The band's 2016 album 'Majesty' saw Flamingods breakthrough, taking their transcendental live show to festival audiences around the world before decamping to Margate's Prah Studios to begin writing their follow up LP 'Levitation' which is due for release via Moshi Moshi Records on 3rd May 2019.

WATCH VIDEO >> https://www.youtube.com/watch?v=Wysb9kMSRuQ

SUNDAY 5th MAY

Winding down (but not too much) from the rich, dark and hallucinatory party textures of the previous nights and into the realms of proto-punk, psych rock and classic autobiographical songwriting of Beth Jeans Houghton aka Du Blonde who will be headlining the Sunday evening. The multi-instrumentalist and artist has animated and directed videos for the likes of Red Hot Chilli Peppers, Lump and Ezra Furman and is known for her sense of humour, often employing the uncomfortable and grotesque to deliver her self deprecating, sarcastic and absurdist view on to the listener.

WATCH VIDEO >> https://www.youtube.com/watch?v=eVxukQRb9E8