Carnation and Body Harvest plus support
Nambucca, London.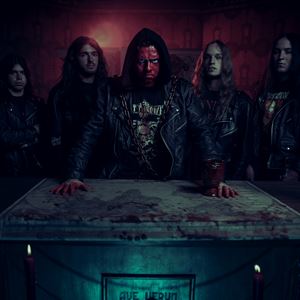 This event is for over 18s only - No refunds will be issued for under 18s.
More information about Carnation and Body Harvest plus support tickets
CARNATION equals blistering death metal madness from Belgium. Early 2013, guitar player Jonathan Verstrepen created the band to show his appreciation for the old school death metal legends from the '80s & early '90s. Vocalist Simon Duson, bass player Yarne Heylen, guitar player Bert Vervoort, and drummer Vincent Verstrepen were summoned to complete the band, and it didn't take long until the chemistry between this quintet to hit critical mass.

2015 marked the year that the first offering entitled 'Cemetery of the Insane' was released upon the masses. Tracks such as "Explosive Cadavers" or "The Rituals of Flesh" take you back in time to the better days of shredding riffs, neck-breaking drums, and skull-crushing guttural vocals.

The live rituals that followed were executed with stone cold merciless aggression. CARNATION delivered their bloodbath at select festivals across Europe during 2015 and 2016. Their next journey led them to distant Asia for their first tour across mainland Japan. This resulted in the infamous 'Live at Asakusa Deathfest' recording (2017). These releases, combined with their reputation as a notoriously impressive live act, drew the attention of fans worldwide and provided CARNATION with the opportunity to perform at several European festivals and saw the band touring alongside PESTILENCE during their special Brazilian tour in April 2018.
August 2018 saw the release of the band's debut full length studio album, Chapel of Abhorrence, on Season of Mist, which was received with wide ranging critical acclaim. Fresh from playing 40,000 Tonnes of Metal alongside such legends as Obituary, Nile and Pestilence, Carnation bring their all-out old school onslaught to London for the first time.
____________________________________________
In the middle of winter, 2011, Body Harvest were conceived in the dark imaginations of guitarists Jake Ettle-lles and Gareth Nash. Their goal was to combine the song writing majesty of the days when Morbid Angel still walked the 'Maze Of Torment' and Death still threatened to 'Pull The Plug' on existence, with the speed and savagery of the modern purveyors of extremity. They wanted to create music that would shine with a black halo of sinister atmosphere and be tightly wound in barbed wire hooks to ensnare the hearts and minds of listeners. They wanted to utterly devastate all who crossed their path with rabid death metal of staggering ferocity and breathtaking brutality. By the following spring the dream beast had become a reality and the co-conspirators were ready to begin their crusade of sonic destruction – announcing themselves to the world with a live show alongside legends of sickness, Exhumed and the infamous Anaal Nathrakh.
By 2014 Body Harvest were ready to unveil their first full length album and on April 21st Grindhouse Music released Futile Creation – a collection of ten tracks that achieved all those early aspirations with staggering ease. Superb song writing with a classic death metal sensibility and skin flaying velocity delivered with fearsome drive and focus. As haunting as it was mercilessly hammering, Futile Creation was a magnificent debut album and it established Body Harvest as prime movers on the UK death metal scene. The band crossed swords in the live arena with the death metal elite, going head to head with the likes of Vital Remains, Aura Noir, Gorguts and many more, while Futile Creation flew out the racks. As the great reviews continued to accumulate, the first pressing of Body Harvest's debut was soon sold out.
A new rhythm section joined the Body Harvest fold in early 2017 and the skull crushing bottom end provided by bassist Dan Shaw Odell and the decimating dexterity of drummer Will Pearson lifted the band to an even higher level. More impressive live shows followed, with more of the most renowned death metal artists in the world, including Vader, Immolation and Hideous Divinity, before work began on the second Body Harvest album. Assisted by Jonny Pettersson (Those Who Bring The Torture, Wombbath, Ursinne etc) the band set about surpassing the brilliance of Futile Creation...
The 'Hierarchy Of Grief' single came roaring into the light as 2018 dawned and it was immediately obvious that Body Harvest had triumphed again. This was more intense, more completely overwhelming than even Futile Creation had dared to be! Two videos followed – for the equally astounding 'Apocalyptic Abomination' and 'The Prophet' - as the band hit the road for their first headlining UK tour, culminating in soul shredding performance at Bloodstock Open Air, along with metal gods Judas Priest, Emperor and Cannibal Corpse.
With the title of their soon to be released second album revealed as Parasitic Slavery, Body Harvest promise to further destroy all that lies before them with their brand of old school brutality.
ADDITIONAL SUPPORT: Divulsor (Brazil) and Death Kommander (Scotland).