Cassidy Janson
Bush Hall, London.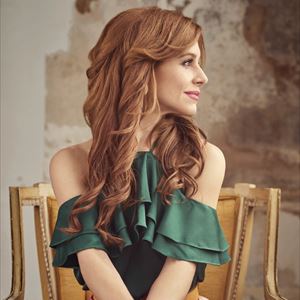 Under 18s must be accompanied by an adult. We cannot issue refunds to under 18s who are not accompanied by an adult.
More information about Cassidy Janson tickets
Cassidy Janson's debut solo album 'Cassidy' plus lead track 'Better' is out now on BMG
"CJ (Cassidy Janson) literally brought me to tears this evening with her performance of Natural Woman. She was who I was, she felt what I felt, she was me!" Carole King
"One of Britain's most talented singers delivers her own heartfelt songs, Cassidy Janson is absolutely wonderful. Her writing is so touching and the whole mood of this album is perfect. Golden soul!" Jeremy Vine
Serendipity, setbacks, happy accidents, innate musicality and good old fashioned grit. Just five of the factors that have informed Cassidy Janson's incident rich journey towards the making and release of her remarkable debut solo album Cassidy, released on BMG Records on June 14th.
Featuring eight tracks co-written by Cassidy and a new song Beat Me To Goodbye given to her by Carole King, Cassidy is a personal selection of songs about life, love and laughter. Lead track Better is an uptempo killer-chorus tale of wistful memories and relationship goals and is accompanied by a video shot at the legendary RAK Studios in London. Key track Guess We're Not In Love Anymore is tale of lost love and domestic ennui that pays sonic homage to 60s girl groups and the Wall of Sound, and a version of When A Woman features in the UK box office hit film 'Fisherman's Friends'. Rupert Christie (Lianne La Havas, Tom Baxter, Lou Reed, Coldplay, U2) produces.
A West End theatre star known for her leading roles in acclaimed productions including Wicked, Chess, and the long running Carole King musical Beautiful, where she played to a combined audience of 500k+ for over two years, Cassidy has just finished appearing alongside Kelsey Grammer and Nicolas Lyndhurst in the English National Opera's remake of the 1965 musical Man of la Mancha at the London Coliseum. This autumn she will lead the world premiere production of '&Juliet' - a musical written by the revered Swedish hitmaker Max Martin, which will feature songs including I Can't Feel My Face (The Weeknd), Problem (Ariana Grande), Love Me Like You Do (Ellie Goulding) and Oops... I Did It Again (Britney Spears).
In theatre, Cassidy explains, you learn never to make plans. But there is one plan she was never prepared to let go of: her album. On this self titled debut the unifying factor in the 14 tracks - including a stunning rendition of Natural Woman - is the emotion Cassidy pours into them. Innate understanding, technique, immaculate phrasing and dynamics, equal parts expressiveness and restraint, she brings a lifetime of experience to a succession of songs that convey heartache, rapture, hard won wisdom and clear eyed perspective.
The song Beat Me To Goodbye is remarkable for many reasons, not least of which Cassidy's vocal performance and the way that she inhabits the lyrics and melody so movingly and instinctively. The truly surprising details can be found in the songwriting credits. The track – previously unrecorded - was written by Carole King, and was given to her as a token of their friendship and mutual admiration. Cassidy expIains,"I contacted Carole's daughter, who manages her, and asked: 'do you have any unreleased songs?' And Carole came straight back with this track. I was standing in my kitchen, and just went: 'Oh. My. God.'"
When King invited Cassidy to join her on stage to sing I Feel the Earth with her when she performed in front of 65,000+ fans in Hyde Park in 2016, Cassidy says, "I was about to go on stage, and this voice came into my head: 'Just bloody well enjoy this'" A short while later, King snuck unannounced into a performance of Beautiful and joined the surprised cast for the curtain call. "I was thinking that if I got a 'Good job, kid', I'd be more than happy. And afterwards she said: 'When you sang Natural Woman, you were who I was, you felt how I felt. You were me.' I couldn't compute everything that was happening in that moment."
When the theatre run of Beautiful came to an end, Cassidy plunged straight into a new project - Leading Ladies. A West End supergroup with singers Beverley Knight and Amber Riley, the trio went on to release the hugely successful album 'Songs From the Stage' in 2017. The album was nominated for a Classic BRIT Award the following year after selling over 80k copies and being certified Silver.
Cassidy grew up in Barnet, North London, near a fellow West End star who is another local girl. "I'm from the same area as Elaine Paige - we're both Barnet girls. And we both sang the role of Florence in Chess. She came to a production I was in last year and I said to her: 'the only two West End Florences are both from Barnet'. How cool is that?"
Cassidy's life has always been characterised by a heady mix of ingrained talent, happenstance, a fierce work ethic and a pragmatism that comes from experiencing the ebb and flow of theatre life. She channels these experiences into an album that represents a seamless transition from stage to recording studio. Music, comedy, theatre and dance: these are her enduring passions, and on this debut album Cassidy deploys the pinpoint timing that each of these art forms rely on to devastating effect. Alongside talent, humour, fun, and determination. With a bit of humble self deprecation thrown in for good measure, to keep her grounded to her North London roots.
Don't forget, ticket holders get a menu deal on food for their table at Bush Hall Dining Rooms (two doors down) between 6-8pm. Please call 020 8749 0731 if you'd like to make a reservation.