Castle Howard Proms
Castle Howard, York.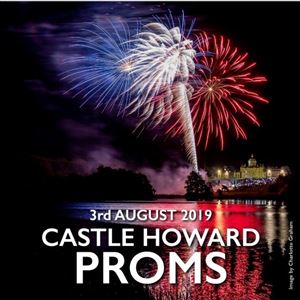 More information about Castle Howard Proms tickets
Set in the magnificent gardens of Castle Howard, our spectacular classical concert will be a night to remember for the whole family. Guest soloists will be joined on stage by the London Gala Orchestra conducted by Stephen Bell.

The programme will include popular classics, songs from musicals and all your flag waving favourites from the Proms including Jerusalem, Rule Britannia and Pomp & Circumstance No.1. With a Spitfire flyover, stunning lasers and spectacular firework finale this will be a magical evening of musical entertainment.

Terms & Conditions

Conditions of sale - purchase of ticket signifies agreement to the following:
1. Tickets are sold subject to licence.
2. Tickets are non-transferable and non-refundable.
3. Tickets are subject to a booking fee.
4. The photocopying or secondary printing of tickets is prohibited.
5. In the event of cancellation, for whatever reason, ticket refunds will be made at the discretion of Castle Howard and the promoter.
6. In the case of ticket refunds in the event of cancellation, only face value of the ticket will be refunded.
7. Right of admission is reserved by Castle Howard, the promoter and their representatives.
8. Under 18s must be accompanied by a responsible adult.
9. Castle Howard, the promoter and their representatives reserve the right to exclude any member of the public who behaves in an inappropriate manner.
10. Castle Howard, the promoter and their representatives reserve the right to search people entering the arena.
11. Castle Howard, the promoter and their representatives reserve the right to change the programme without notification.
12. Performances take place in all weather.
13. No seating or shelter is provided.
14. Castle Howard and the promoter of this event accept no liability whatsoever for loss, damage or injury to person or vehicles (including contents) howsoever such loss or damage is caused.
15. Items which are strictly prohibited and may be confiscated are: gazebos, tented structures, fires, barbecues, cookers, fireworks, lawn candles or any naked flames.
16. No animals are allowed in the arena apart from service dogs.
17. Disabled Ticket - Entitles the bearer to bring 1 (one) carer free of charge. Please note that 'Carer Tickets' are not issued online. To obtain your Carer Ticket, you will be required to present a valid Disabled Ticket and proof of entitlement to Disability Living Allowance (DLA), to the Box Office at the Main Entrance on the day. Our customer service staff will issue Carer tickets accordingly.
Please note that:
1. The use of recording equipment is not permitted.
2. You are advised to wear suitable footwear and clothing; this concert will take place even in wet weather condition.
3. Please bring a torch as the concert will finish in darkness.
4. The concert takes place on a sloping grass lawn, access is via a tarmac drive or field track.
5. Castle Howard Silver & Gold Friends and Annual Pass holders are entitled to a discounted ticket rate. Please note this discounted rate will not be available after 4pm on Friday 2 August 2019.
6. You are permitted to bring your own alcohol (including glass bottles) although we do ask that you drink responsibly.