Chantel McGregor
Robin 2, Wolverhampton.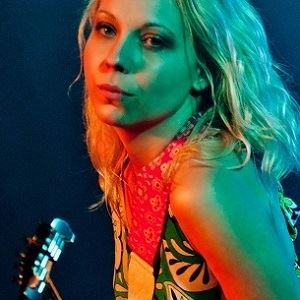 At the forefront of the dynamic new generation of British Blues Rock
14+ only. 14s to 17s must be accompanied by an adult. No refunds will be given for incorrectly booked tickets.
After you buy, click Split It With PayPal

to easily split ticket money with friends.
More information about Chantel McGregor tickets
+ support Zoe Green Band
Guitarist and singer-songwriter Chantel McGregor released her highly anticipated new album, Lose Control, on Friday 9th October 2015 on her independent boutique label Tis Rock Music, The new album is the follow up to her critically acclaimed 2011 debut solo album, Like No Other.
After four years of touring and festival appearances, Chantel returns with a vengeance with ten new songs that not only salutes contemporary rock, but shows her gradual transition from conventional Blues to a harder, bigger and bolder rock sound with progressive influences.
"I've always been interested in the dark side of Southern Gothic literature, artwork and media," says Chantel. "I wanted to create an album that reflected the imagery and themes of that genre. I drew inspiration from the TV shows True Detective and True Blood and studied the literary works of Tennessee Williams, Carson Mullers and Mark Twain."
"I also surrounded myself with imagery from artists and photographers such as Walker Evans and Clarence John Laughlin, all to immerse myself in the sinister, dark world of depravation, magic and voodoo, writing most of the songs from the perspective of the disturbed flawed characters."
Lose Control, sees Chantel channeling her guitar playing and song-writing into an exciting pantheon of rock crescendos and riffs, that will not only leave her devout blues rock fan base in awe, but will also lead them into a sonic journey that will take them into new musical territory, whilst sticking to her current obsession with all things Southern Gothic.
"My interpretation of Southern Gothic is the loss of control, either spiritually, physically (through other people or substances), or emotionally," reflects Chantel. "I drew on this theme a lot throughout the album, hence the title Lose Control. I wanted the sound and emotion of the album to reflect the concept, so I juxtaposed heavy, guitar riff-based, dark tracks with haunting, emotive acoustic tracks, whilst tying them together with the lyrical themes of desperation and loss so often seen in Southern Gothic fiction."
The album was recorded, mixed and mastered at Livingstone Brown's studio in Brixton over the space of 6 months, interspersing studio time with touring. Livingstone Brown, (Ed Sheeran, Bryan Ferry, Robin Trower), played the majority of the bass on the album, with Chantel playing small parts, and her touring drummer Keith McPartling, playing drums for the whole album.
Says Chantel, "I did the vocals, backing vocals, all guitar parts, arrangements and some production. We brought in two amazing string players, Charlie Brown on the violin and Chris Worsey on the cello. I really enjoyed the creativity the studio gave me and loved venturing into the production and arrangement sides of it, which I will definitely be doing more of in the future."
For the album artwork, Chantel wanted to reflect the darkness of the album whist retaining an eerily traditional feel. To make this happen, she contacted a friend of hers, Mark Eliades, who created all of the calligraphy by hand, which Chantel transferred into digital format to design the album cover. In addition to designing the cover, Chantel also did all the photography and visual effects. The imagery is all Chantel - from the voodoo doll, the scratched song lyrics and the gothic old door, all of which tie in into the Southern Gothic theme, reflecting the dark undercurrents and disturbing concepts of the album.
ZOE GREEN delivers a powerful, sultry Blues Rock vocal and high octane performance- accompanied by legendary and ridiculously talented guitarist Ali Clinton (Uli John Roth) with Toby Wilson (Laurence Jones, Joanne Shaw Taylor) on Drums, David Clarke (Alvin Stardust, Ruby Turner) on Bass and Paul Brambani on Hammond. The whole band are a powerhouse, delivering an explosive set of originals and covers and an unmissable full- on show. They will be launching their much awaited EP in 2017.