Chloe Foy
The Boileroom, Guildford.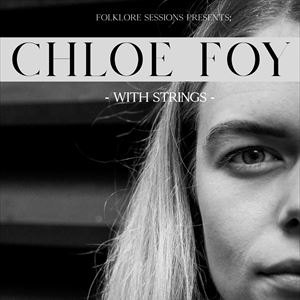 This event is for 14 and over - No refunds will be issued for under 14s.
More information about Chloe Foy tickets
With her strikingly beautiful voice and emotionally direct songwriting, Chloe has captured the attention of rapidly growing UK and US audiences. With the release of her singles 'Asylum', 'Flaws', 'Oh You Are Not Well' and 'In The Middle Of The Night', she has accumulated over 10 million plays on Spotify, as well as earning the praise and airtime of the likes of NPR Radio's Bob Boilen and the BBC's Steve Lamacq.
She has just been named a 2019 BBC Introducing "One To Watch" by Radio 3's Late Junction. 2018 saw her perform at SXSW as well as touring in support of the mercurially talented Jesca Hoop (as well as singing backing vocals in Jesca's band). She has just completed a successful headline UK tour and this summer she played Fempop festival in Barcelona, Cambridge Folk Festival and Greenman. Chloe is supported by the PRS Momentum Fund.
'Laced with wisdom beyond her years, the stark but deeply imaginative folk settings supplying something supple but also intense. 'CLASH Magazine
'Foy glistens with a dark, youthful honesty, full of relief.' EARMILK
'Beautiful and Relatable' – The Line of Best Fit
'She might just be our favourite songwriter of this, or any year' - Ear To The Ground
'definitely a name to watch' – Folk Radio UK
'Her huge talent lies in creating delicate yet intense atmospheres that swallow us in bliss, while her voice remains our steady link to reality.' – The 405
If country music's all about life inside America, Martha St. Arthur's modern Westerns are all about life outside it. Raised in the badlands of England's deep South in an identikit commuter town, her early influences were from Hollywood's 1990s global sprawl: hedonistic party pop, paint-by-numbers rom-coms and Singstar symphonies. Now under the altogether more benign influence of Laura Marling, Brandi Carlile and Paul Simon, her punchy alt-country is preoccupied with politics, little England and the reality of life in the final years of liberal democracy. Contrary to lyrical indications, she's actually quite a cheerful person.

Links:
www.facebook.com/marthastarthur
www.instagram.com/marthastarthur
www.twitter.com/marthastarthur
Claudia Kate is a Cambridge-grown, London-based artist. Describing her style as indie pop with a splash of folk, Claudia Kate's music sits somewhere between the unequivocal outspokenness of Lily Allen and the haunting musicality of angelic indie icons Wolf Alice. It is through lyrical honesty and ethereal production that Claudia creates relatable, hook-driven songs that stay with you long after the first spin.

Likened to fellow feminist Kate Nash, Claudia never holds back on sharing the narrative of her life and this is what makes her connection with her listeners so authentic. By incorporating her own artwork into her music, Claudia makes a name for herself as a wholly DIY artist, exploring the boundaries between musical and visual art.

In 2019, Claudia released the coming-of-age bop 'Boys', exploring themes of self-love, friendship and feminism with admired transparency. She describes her music as 'bedroom pop' (made in a bedroom and to be danced to in a bedroom); sincere, imperfect songs for anyone who'll listen. // Spotify: https://open.spotify.com/artist/3vTOtyW2zfxYELGaIN8Py5?si=Q9WV4SaHQhefPwiT01xnBg

https://www.claudiakatemusic.com/
https://www.facebook.com/claudiakatemusic/
https://www.instagram.com/claudia_kate/
https://twitter.com/_claudiakate
https://soundcloud.com/claudia_kate