Christmas Gala Concert
Duna Palota, Budapest.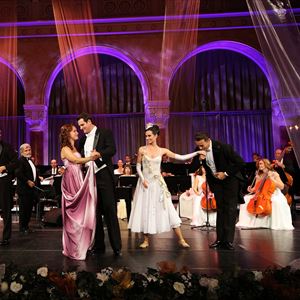 Please arrive 30 minutes before the show starts at the cash desk of the Danube Palace, 5 Zrinyi utca, Budapest, 1051, Hungary.
More information about Christmas Gala Concert tickets
Spend Christmas night in the company of the world-renowned Hungarian classical music performed in the stunning Neo-Baroque Danube Palace to take you straight into the golden age of classics in Budapest.
The crowd-favourite Danube Chamber Orchestra will headline this 90 minute concert that is sure to be a highlight of the Christmas festivities. Let yourself be enchanted by the beautiful melodies of Mozart, Haydn, Bach and Hungarian masterminds such as Lehár and Kálmán for an unforgettable Christmas night.
As a highlight of the performance, a traditional Hungarian instrument, the cimbalom, or hammered dulcimer is brought in to make the night all the more special for you. Get to know the power of this instrument that have been used to in place of the piano during the renaissance of Hungarian symphony music. Experience the classics with the interpretation of this exotic instrument and let your senses take you back to the romantic 1800's for one and a half hours.
The classical music scene of Budapest is something to experience for every music lover visiting the capital of Hungary. Located just between the iconic Chain Bridge and the stunning Basilica, the Danube Palace is part of the Budapest's history. Built at the end of the 19th century, the building has a true time-travelling feel to it that further enhances the intimate atmosphere of this distinguished evening.
TIP!
You can book your ticket with Dinner & Cruise after cruise including a 1.5 hour long cruise and buffet dinner OR a unique Wine tasting with the best 7 Hungarian wine to taste from.