Christmas Market 7.15 - 8.30pm
The Atrium Bar and Kitchen, Nottingham.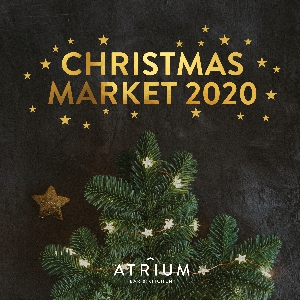 There are three timed entries for visitors, being 5.30pm-7pm, 7.15pm-8.30pm and 8.45-10pm. This allows for a 15 minute period between groups in, to allow for a quick clean down and sanitising of all areas.

Tickets will be £5 for entry, which 50% will go to our chosen charity, Bags of Blessings, (registered charity 1182290), who we have worked with for many years. Their aim is to distribute a Christmas gift bag to every child whose family is dependent on local food banks or Sharewear clothing, in the Sherwood & Gedling areas of Nottingham. Their plan to reassure children that they are not forgotten and to restore hope through the generosity of strangers, means so much to us, and we hope that we will be able to send them a considerable sum to enable them to continue with this most valuable work.

For the £5 entry price, each customer will get a glass of Prosecco/alcohol free drink upon arrival.
More information about Christmas Market 7.15 - 8.30pm tickets
The Atrium will be hosting a Christmas Market with wonderful stall holders including The Italian Biscuit Co, Stud and Tassel, Anna Treliving, By Sara Christie, Last Night I dreamt, The Little Plant Guys, Gincident, Keisha Jewellery, Tori Murphy, Aroment Uk, Rame, Koti Boxes, Rebecca Bradford and Rose and Wul. All of which are wonderful producer/makers/suppliers and have products that you'll not only want to give as Christmas presents, but want to keep for yourself !