CINEMA: BOLSHOI BALLET: THE GOLDEN AGE
The Neon, Newport.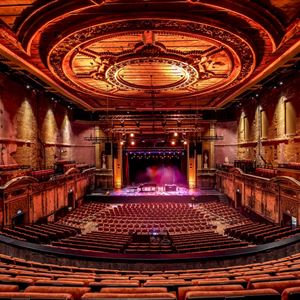 More information about CINEMA: BOLSHOI BALLET: THE GOLDEN AGE tickets
Trafalgar Releasing and The Neon, Newport are proud to present the 2018/2019 season of one of the worlds oldest and renowned Ballet companies The Bolshoi Ballet. With the Russian Ballet productions screening across select cinemas across the UK, the Neon will be featuring this years season including 4 live broadcasts from Moscow.
The 2018/19 Bolshoi Ballet in cinema season showcases some of ballet's greatest classical works performed by the world's finest dancers creating a unique cinematic experience. Four classical ballets (La Sylphide, Don Quixote, La Bayadère and The Sleeping Beauty) will be shown on the big screen alongside the beloved Christmas taleThe Nutcracker. The evocative 1920's jazz ballet The Golden Age and Edward Clug's latest choreographic work Petrushka alongside Carmen Suite completes the season.
Advance tickets Onsale NOW - £10 available online at
Or direct via The Neon, Newport Box Office - 01633533666
*Please note this event is held on our 2nd floor cinema space, for accessibility enquiries please contact the box office
Yuri Gregorovich
's celebration of the 1920s
The Golden Age
can be seen on
7 May 2019
. A young fisherman Boris falls in love with Rita. He follows her to The Golden Age cabaret, a favorite nightly haunt and realises that not only is she is the beautiful dancer 'Mademoiselle Margot', but also the love interest of local gangster Yashka. It stars
Nina Kaptsova
(Rita),
Ruslan Skvortsov
(Boris),
Mikhail Lobukhin
(Yashka) and
Ekaterina Krysanova
(Lyuska). With its jazzy score by
Shostakovich
and beautiful tangos,
The Golden Age
is a refreshing and colourful dive into the roaring 20s.
Founded in 1776, the Bolshoi is one of the world's oldest and most renowned ballet companies. Six productions in the Bolshoi's season will be screened in more than 100 cinemas around the UK from October, including four live broadcasts from Moscow