Cloud Nothings
The Castle and Falcon, Birmingham.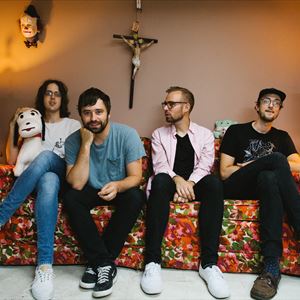 This Is Tmrw are thrilled to welcome Cloud Nothings back to Birmingham for an intimate show at the Castle & Falcon on January 26th.
More information about Cloud Nothings tickets
THIS IS TMRW
PRESENTS
CLOUD NOTHINGS
+ SPECIAL GUESTS
DOORS: 7.30PM
TICKETS: £12.50
This Is Tmrw are pleased to present Ohio-based indie rockers Cloud Nothing back to Birmingham on their UK tour!
'Cloud Nothings was founded in a Cleveland basement, the one-man recording project of Dylan Baldi. Prolific from the start, Baldi's early work was rough but immediate: crudely recorded, spring-loaded spasms of Buzzcocks-informed pop that quickly found an online following among the lo-fi-inclined.'
'For a band that sticks to its impulses instead of trends, Cloud Nothings accumulates critical praise and loyal fans with the type of ease modern rock bands can only dream of. That's because the Cleveland four-piece is the byproduct of Dylan Baldi, a frontman whose melodic intuition and musical fervor are as innate as they are impressive. Baldi's early indie rock songs welcome pop warmly without sounding trite. His later alt-rock hooks are too busy criss-crossing guitar lines to overthink things. The urgency he writes with comes across in the vividness of his guitar. Since expanding his solo project into a proper band, Baldi has positioned Cloud Nothings as the torchbearers of the frenetic, visceral, and thundering rock of bands like The Wipers and Drive Like Jehu. It's all alternating resolves and anticipated breakdowns. And live, it's near impossible to dispute talent that palpable.'