Coda Tickets
The Venue, Worthing.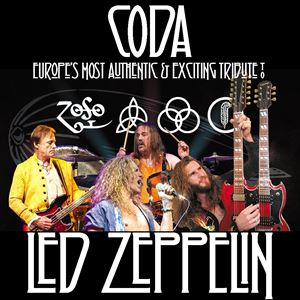 More information about Coda tickets
CODA - A Tribute to Led Zeppelin are Europe's most authentic and exciting Led Zeppelin tribute band, replicating the power and magic of a Led Zeppelin show like no other.
They are the only proper four-piece Led Zeppelin tribute band in Europe that looks and sounds as close to Led Zeppelin as possible, featuring authentic-looking and sounding

instruments as well as incredible, hand-made replica costumes that will take you back to the time when Led Zeppelin ruled the world!
Featuring all the classic Led Zeppelin songs such as Whole Lotta Love, Stairway to Heaven, Rock and Roll, Black Dog, as well as Led Zeppelin live rarities such as

When the Levee Breaks, Ramble On, Wanton Song and more, CODA - a Tribute to Led Zeppelin have got it all covered. The band can also perform a wide variety
of Led Zeppelin's acoustic songs such as Going to California, That's the Way, Tangerine and much, much more.