Cold Flame's Tribute to Jethro Tull
Alexander's Live, Chester.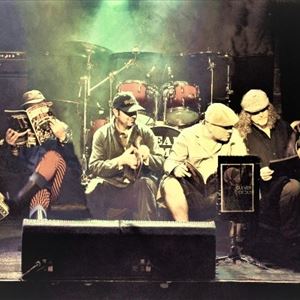 This event is for over 18s only - No refunds will be issued for under 18s.
More information about Cold Flame's Tribute to Jethro Tull tickets
Throughout the band's history, Cold Flame have performed music by British prog folk rock giants Jethro Tull. In 1997 following promoter suggestions, Cold Flame embarked on a new project – a full scale Jethro Tull tribute show. Such was the success of the band's first few Tull shows that Cold Flame quickly gained the band the reputation for being one of the premier Tull tribute acts in the UK extending their experience into Europe over the next few years. The Jethro Tull tribute show as performed by Cold Flame over the last 19 years, has seen the band headline indoor and outdoor shows, rock festivals and blues clubs both across the UK as well as in mainland Europe and they have been featured on European radio stations as well as on UK radio channels. During this time, there has been a strong link with ex Jethro Tull band members. Cold Flame have performed alongside Clive Bunker, Mick Abrahams, Glenn Cornick, Paul Burgess, Gerry Conway and Martin Allcock as well as Tull guest musician and international violinist Anna Phoebe. Cold Flame have also supported two Tull off-shoot bands in Blodwyn Pig and Wild Turkey. The band has played several Jethro Tull European Fan Conventions most notably in Spain and in Italy. During this time the band were mainly fronted by multi instrumentalist Peter Cheetham. Peter left the band in 2014 moving on to other musical adventures.
The current Cold Flame Jethro Tull tribute five piece line up features Chorley musician – flautist Mark Parkinson in a two hour plus set list that covers many of the classic Tull songs as well as some rare surprises from albums such as Aqualung, Thick as a Brick, Stand Up, Benefit, Songs from the Wood and Rock Island. This year, Cold Flame will be performing several Jethro Tull tribute shows in England. They will also be featuring Tull music in both their electric and acoustic shows.