Cosmic Ninja plus Saints Among Us & Hex Poseur Tickets
The Fulford Arms, York.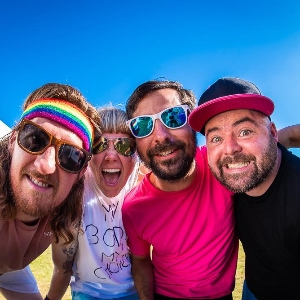 This event is a space where women can feel safe, accepted, and valued. We believe in creating a supportive community that uplifts and empowers one another, and we're committed to providing an inclusive atmosphere where everyone can be their true selves.
So, mark your calendars and join us for a night of celebration and community building. Let's come together to embrace our differences and stand up for love, acceptance, and equality for all. We can't wait to see you there!
More information about Cosmic Ninja plus Saints Among Us & Hex Poseur tickets
Queer-fronted, four-piece Cosmic Ninja are a powerhouse of energy with their unique fusion of rock, rave and punk sounds. Combining an anti-establishment message with joyful exuberance and positivity, the band personifies the zeitgeist of the post-pandemic era.
Described as "able to deliver for the big occasions" (Bristol Pride) and "truly a visual spectacle" (Tap the Feed Magazine) they are the live band of the moment and they never fail to bring down the house. Highly in demand for festivals all over the country, their raucously infectious set on the main stage at the 10,000+ capacity Bristol Pride Day was a fitting high to an extraordinary 2022 summer.
Following their critically successful EP release this year, mixed by Dan Weller (Enter Shikari, Bury Tomorrow), last autumn saw them touring with punk-rock outfit Millie Manders and the Shutup, and delivering their first London gig under the aegis of highly regarded promoter Get in Her Ears at The Shacklewell in Dalston.
Full Support from
Saints Among us - Electronic Alternative Pop Rock Saints
Hex Poseur - Garage Rock from Leicester