Cumbion con Don Medardo y sus Players en Madrid
La Riviera, Madrid, ES.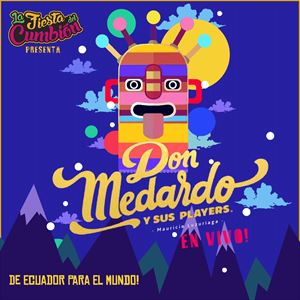 Nombre del evento: La Fiesta del Cumbión presenta a Don Medardo y Sus Players
Ubicación: La Riviera
Dirección: Paseo Bajo de la Virgen del Puerto
Fecha: 13 de Junio de 2020
Hora: 21:00
Apertura de puertas: 20:00
Entrada permitida a: menores de 16 años acompañados del tutor legal.
Precio: A partir de 30 €
Under 16s must be accompanied by an adult. We cannot issue refunds to under 16s who are not accompanied by an adult.
More information about Cumbion con Don Medardo y sus Players en Madrid tickets
Porque los hípsters también sandunguean.
El Cumbión es una fiesta tropical dedicada a todos esos éxitos tropicales del ayer, hoy y siempre. Dentro de la fiesta un playlist dedicado a la cumbia de toda Latinoamérica de norte a sur desde México hasta Argentina.
Se creó en Quito-Ecuador en el 2015, pasó de ser un evento casero para convertirse en una plataforma que busca difundir las propuestas musicales nuevas y rescatar las canciones tropicales de los años 90.
Ahora se hacen 12 ediciones al año, cada una con diferente temática, y se expandió a otras ­ciudades del país y ahora al mundo.