Damnably Presents Say Sue Me (South Korea)
Stereo, Glasgow.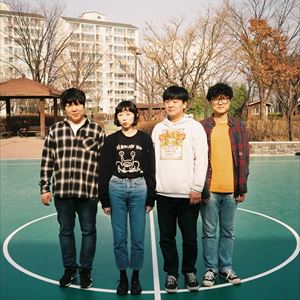 This event is for over 18s only - No refunds will be issued for under 18s.
More information about Damnably Presents Say Sue Me (South Korea) tickets
Damnably celebrates it's 12th Birthday with the Scottish debut headline show for Say Sue Me at the wonderful Glasgow CCA w/ special guests.

Adv Tickets £8

Say Sue Me are a Surf inspired Indie-Rock/Pop act from Busan, South Korea and cited as one of 2018's 'break-out bands'.

Childhood friends Jaeyoung Ha (Bass) and Byungkyu Kim (guitar) met drummer Semin Kang and played in bands together since winter of 2012, when they met Sumi Choi at a tea shop in Nampo-dong. They liked her speaking voice and immediately offered her a spot as the vocalist in a new band that would become Say Sue Me. Sumi turned out to be a natural at songwriting. Semin sadly suffered trauma from a fall. New drummer Changwon Kim stands in while they await Semin's recovery.

Following showcases at SXSW in 2018, the band released their sophomore album "Where We Were Together" and a RSD covers EP which won praise from Pitchfork, NPR, Billboard, i-D, The Independent, Stereogum, Paste, MTV, Uproxx. Fader, DIS, The 405 & more.
Three tracks were playlisted on BBC 6Music where Lauren Laverne, Tom Ravenscroft, Gideon Coe and Don Letts have championed the band as well as Elton John on Beats1 and KEXP.

GQ Korea "The most famous Korean Indie band in the world"

NPR "…jangly indie-pop, handclap-rich girl-group classics and the lightly rumbling sounds of early surf-rock. At once stylish and timeless…"

MTV "…your new favorite indie rock band from Korea!"

Pitchfork "…its vibrant and catchy instrumentation does so much work, "Old Town" suggests less the ache of being alone in a city than it does the tingly feeling that accompanies a life-changing milestone."

KEXP "…jangle-pop hooks, stunning vocal melodies, and intricate guitarwork that stands up proudly against some of their influences like Yo La Tengo and Pavement…"

Billboard "…with a growing buzz surrounding their jangly single, "Old Town," Korean indie quartet Say Sue Me is on the up-and-up…"

Uproxx "…you don't need to fully grasp the backstory to get sucked into its feverish tempo and go-for-broke delivery, with the band's innate ear for a warm melody striking by the time the chorus kicks in."

Stereogum "The seven-minute slow burn "Coming To The End" evokes late-album indie-rock epics such as Yo La Tengo's "We're An American Band" or Pavement's "Fillmore Jive"…"

The Fader "Really sweet, melodic rock that makes me feel like I'm in high school."

Bandcamp Daily "…an addictive amalgam of sugary indie pop and gritty surf that showcases a finely-tuned sense of melody and technical skill… Nary a song on Say Sue Me isn't a total ear worm."






Links

https://www.facebook.com/SaySueMe1/
https://twitter.com/SaySueMe
https://www.instagram.com/saysueme/
https://saysueme.bandcamp.com/
https://open.spotify.com/artist/4tvbo17gXpYgSr8sTlkaby?si=8yLP5ImrSAC-NkbMt0x0sQ
https://soundcloud.com/damnably/sets/say-sue-me
Damnably Records
https://www.facebook.com/SaySueMe1/
https://damnably.bandcamp.com/

W/ Special guests HAIRBAND

Harband are a 5-piece from Glasgow, their first 5-song EP is on the way autumn 2018. They are influenced by their vibrant local Glasgow scene as well as acts like Cate Le Bon and Deerhoof, plus lots of post-punk and experimental pop. With a trio of guitars, Hairband blend intricate, jangly riffs with danceable beats, hooky bass lines, sweet melodies and layered vocal harmonies. They sing songs about gravity and the moon and have enjoyed sharing bills with bands such as Brix and the Extricated, Duds, The Yummy Fur and played at Doune the Rabbit Hole Festival 2017, also being nominated for Best Newcomer at The Scottish Alternative Music Awards 2017. Their song 'Flying' was also included on a compilation released by Money Advice Scotland in March 2018, alongside tracks from Mogwai, Sacred Paws and The Pastels.
Recently back from their first UK tour, the band feature members of The Yawns, Lush Purr, Rocky Lorelei, Kaputt Breakfast Muff and Spinning Coin.
"A Glasgow DIY scene supergroup… cuts of pop perfection", RoughSmooth Mag
Money Advice Scotland Compilation:
https://moneyadvicescotland.bandcamp.com/track/flying
https://www.facebook.com/hairbanddd
https://www.instagram.com/hairbanddd/
https://twitter.com/hairbandd