Damnably Presents Say Sue Me (South Korea)
The Lexington, London.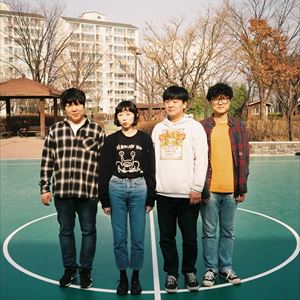 This event is for over 18s only - No refunds will be issued for under 18s.
After you buy, click Split It With PayPal

to easily split ticket money with friends.
More information about Damnably Presents Say Sue Me (South Korea) tickets
Damnably celebrates it's 12th Birthday with the return of Say Sue Me on Oct 8th at The Lexington.
plus special guests.
Adv Tickets £9

Say Sue Me are a Surf inspired Indie-Rock/Pop act from Busan, South Korea and cited as one of 2018's 'break-out bands'.

Childhood friends Jaeyoung Ha (Bass) and Byungkyu Kim (guitar) met drummer Semin Kang and played in bands together since winter of 2012, when they met Sumi Choi at a tea shop in Nampo-dong. They liked her speaking voice and immediately offered her a spot as the vocalist in a new band that would become Say Sue Me. Sumi turned out to be a natural at songwriting. Semin sadly suffered trauma from a fall. New drummer Changwon Kim stands in while they await Semin's recovery.

Following showcases at SXSW in 2018, the band released their sophomore album "Where We Were Together" and a RSD covers EP which won praise from Pitchfork, NPR, Billboard, i-D, The Independent, Stereogum, Paste, MTV, Uproxx. Fader, DIS, The 405 & more.
Three tracks were playlisted on BBC 6Music where Lauren Laverne, Tom Ravenscroft, Gideon Coe and Don Letts have championed the band as well as Elton John on Beats1 and KEXP.

GQ Korea "The most famous Korean Indie band in the world"

NPR "…jangly indie-pop, handclap-rich girl-group classics and the lightly rumbling sounds of early surf-rock. At once stylish and timeless…"

MTV "…your new favorite indie rock band from Korea!"

Pitchfork "…its vibrant and catchy instrumentation does so much work, "Old Town" suggests less the ache of being alone in a city than it does the tingly feeling that accompanies a life-changing milestone."

KEXP "…jangle-pop hooks, stunning vocal melodies, and intricate guitarwork that stands up proudly against some of their influences like Yo La Tengo and Pavement…"

Billboard "…with a growing buzz surrounding their jangly single, "Old Town," Korean indie quartet Say Sue Me is on the up-and-up…"

Uproxx "…you don't need to fully grasp the backstory to get sucked into its feverish tempo and go-for-broke delivery, with the band's innate ear for a warm melody striking by the time the chorus kicks in."

Stereogum "The seven-minute slow burn "Coming To The End" evokes late-album indie-rock epics such as Yo La Tengo's "We're An American Band" or Pavement's "Fillmore Jive"…"

The Fader "Really sweet, melodic rock that makes me feel like I'm in high school."

Bandcamp Daily "…an addictive amalgam of sugary indie pop and gritty surf that showcases a finely-tuned sense of melody and technical skill… Nary a song on Say Sue Me isn't a total ear worm."






Links

https://www.facebook.com/SaySueMe1/
https://twitter.com/SaySueMe
https://www.instagram.com/saysueme/
https://saysueme.bandcamp.com/
https://open.spotify.com/artist/4tvbo17gXpYgSr8sTlkaby?si=8yLP5ImrSAC-NkbMt0x0sQ
https://soundcloud.com/damnably/sets/say-sue-me
Damnably Records
https://www.facebook.com/SaySueMe1/
https://damnably.bandcamp.com/


PLUS Very Special Guests
HIPERSON (DUO)
Sijiang & Ji from Chengdu's Hiperson/??? will play 4/5 songs as a duo-it will be their UK/EU debut.
Hiperson are one of China's most exciting young acts doing a poetic and magical art-rock/post-punk.
Here's what their label Maybe Mars says about them:
Hiperson is a five-piece rock band from Chengdu, China. Unlike previous generations of Chinese musicians, these twenty-somethings reject the shackles of recent history, harkening back to the essential, sensitive, poetic golden age of rock'n'roll. Their temperament of refreshing simplicity has led Hiperson on a path of rapid achievement. Frontwoman Chen Sijiang's unique voice, brilliant and gorgeous as it is, does not draw the audience's full attention away from Hiperson's compelling bass-lines or the complex, precise rhythmic interplay between drums and guitar.
In the second decade of the 21st century, Hiperson has become the leader of a new generation of Chinese rock musicians beginning to revisit the expressive charm of their native tongue. The band's frankly honest lyrics are all written by Chen Sijiang, an art school graduate with a background in painting. Through a series of poetic passages from song to song, her words lead the listener to the edge of danger, through landscapes of cold reality, oscillating between daily life and illusion.
But this is not Romantic music. Though this form of expression belongs to the rare domain of some of the greatest singers in the history of rock music, it's open to constant re-interpretation, never restricted by the form of rock'n'roll itself. Hiperson, these five young artists, come out of the blue, leaving the first footprints on a new path with their slow, steady march.
Hiperson released their debut album, I Don't Want Another History, in April 2015. The album was produced by Yang Haisong and released on CD and double vinyl LP by Maybe Mars Records.