DAMO SUZUKI
The Chameleon, Nottingham.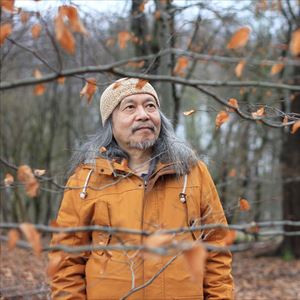 Artist - Damo Suzuki, former vocalist of krautrock group Can.
Venue - The Chameleon Arts Cafe Newcastle Chambers 17A Angel Row, City Centre, Nottingham NG1 6HL (Alleyway between CARDZONE and GAME, venue OPEN From 6pm)
Date - Sunday 6th May
Tickets - £9 Adv
Doors - 7:00pm
For more info - Message fb.com/yungjimbi or Email jbtemniuk2017@gmail.com
More information about DAMO SUZUKI tickets
Damo Suzuki is a Japanese musician who has been living in Germany since the early 1970s and is best known as the former lead singer of the German krautrock group Can. He currently curates a project known as Damo Suzuki's Network in which the sonic nomad performs with local musicians from around the world.
In his own words, "I am creating time and space of the moment with ever changing local sound carriers (musicians). Each Performance of Damo Suzuki's Network is very unique not repeatable. It's fresh, organic and natural. This is the music that you HAVE TO EXPERIENCE."
On Sunday 6th May he will be visiting The Chameleon Arts Cafe in Nottingham to perform in an very intimate setting. You can be sure to witness a once in a lifetime performance. Damo's energy and signature vocal, Combined with the sonic intricacies, cascading soundscapes and powerful beats of Nottinghams Shoegaze, Psych and Spacerock underground.
Tickets - £9 Adv
Doors - 7:00pm
Address - Newcastle Chambers 17A Angel Row, City Centre, Nottingham NG1 6HL (Alleyway between CARDZONE and GAME, venue OPEN From 6pm)
For more info - Message fb.com/yungjimbi or Email jbtemniuk2017@gmail.com