Dave Kerzner
Robin 2, Wolverhampton.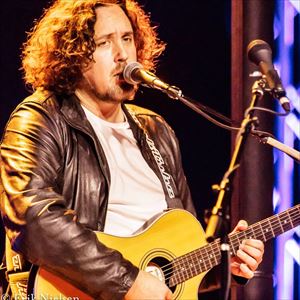 No under 14s in the standing area, 14 - 17s must be accompanied by an adult. No refunds will be given for incorrectly booked tickets.
After you buy, click Split It With PayPal

to easily split ticket money with friends.
More information about Dave Kerzner tickets
+ special guests Tiger Moth Tales featuring Peter Jones + Dave Bainbridge and Sally Minnear acoustic duo
Doors open 6.00pm
Dave Bainbridge and Sally Minnear Acoustic Duo on stage (6.30pm)
Tiger Moth Tales (on stage 7.30pm)
Dave Kerzner Band (on stage 8.45pm)
DAVE KERZNER, former member of the Progressive Rock band "Sound of Contact",has released his debut solo concept album, "New World". The first single off the album, "Stranded",
Dave Kerzner (aka "Squids") is a songwriter, producer, keyboardist and vocalist who is best known for co-writing and co-producing Sound of Contact's award-winning concept album "Dimensionaut" and he is also well known as the founder of the sound production company Sonic Reality. In addition to Dave's career as a solo artist Dave is part of several projects including the UK-based band "Mantra Vega" with Heather Findlay and his fantasy band/tribute project "Sonic Elements" that combines sampled Sonic Reality artists with special guests from the Prog World.
Over the years Dave has worked with many artists and producers ranging from Kevin Gilbert to Keith Emerson and ELP, Steve Hackett, Steven Wilson, Alan Parsons, Crowded House, Genesis, L. Shankar, Bono and The Edge, Ginger Baker, Nick Mason of Pink Floyd, Neil Peart of Rush, Jerry Marotta of Peter Gabriel, Billy Sherwood and Jon Anderson of Yes, David Longdon (Big Big Train), Rolling Stones, The Who, Durga and Lorelei McBroom (Pink Floyd), David Kilminster (Roger Waters), Joe Lynn Turner of Deep Purple, Ken Scott (Beatles, Bowie, Elton John), Hugh Padgham (The Police, Genesis), Heather Findlay (Mostly Autumn), Nick Davis (Genesis, XTC), Ringo Starr, Bob Siebenberg (Supertramp), Woody Woodmansey (David Bowie), Sam Phillips, T-Bone Burnett, Francis Dunnery (It Bites, Robert Plant), Phil Ramone, Billy Cobham, Terry Bozzio, Rod Morgenstein, Danny Gottlieb of Pat Metheny Group, John Paul Jones of Led Zeppelin and Them Crooked Vultures, Smashing Pumpkins, Tom Waits, Barbara Streisand, Madonna, Beyonce, Pearl Jam, Aimee Mann, Jon Brion, Nick Raskulinecz (Foo Fighters, Rush), Allen Sides (Ocean Way Recording), Rik Emmett (Triumph), John Wesley, Colin Edwin and Gavin Harrison (of Porcupine Tree), Carmine and Vinny Appice, John Blackwell (Prince), Ed Greene (Steely Dan), Alastair Greene (Alan Parsons Project), Russ Parish (Steel Panther), Toss Panos, Corky James, Nick D'Virgilio (Tears for Fears, Genesis, Big Big Train, Spock's beard) and others.
After many years working in sound design and production with SR and as a keyboardist with other artists, Dave decided it was time to take center stage as lead vocalist and put out his first Progressive Rock album as a solo artist.
TIGER MOTH TALES
Tiger Moth Tales is essentially the brain child of nottinghamshire based musician and writer Peter Jones, who has been involved in the music industry performing around the UK and recording his own material since the late 90s.
Pete, (33) was born on October 6th 1980. At fifteen months Pete lost his sight due to Retinoblastoma. From an early age he was into all things musical and at the age of four had his first piano. "Music has always been a huge part of my life. How much of that was influenced by my sight loss it's impossible to say, but i've always had a knack of picking up music by ear pretty quickly." (Pete)
At the beginning of 2013, Pete started work on a new project. This took the form of a concept album, and it was the first progressive music he had written since he was a teenager. Throughout 2013 Pete continued to write and record new progressive music and by October 2013 "Cocoon" the new album was complete. Cocoon is a concept album on the subject of Childhood, and coming to terms with the loss of childhood. The journey goes through stages of Innocence, joy, imagination, stories, friendship, love, nature, nostalgia, grief, acceptance and rebirth.
The album which has had very promising initial responses will be released under the band name "Tiger Moth Tales". The new name follows Pete's decision to continue writing in the Progressive genre, "The name Tiger Moth Tales comes from various references, one of which is from Steve Hackett who is one of my biggest influences in this field. Having written the album, i've turned on a creative tap which I thought had run dry along time ago, and i'm already working on ideas for a new progressive album. It seemed like a good idea to have a band name as it clearly differentiates between my prog output and the pop stuff I brought out before and who knows may return to some day. On Cocoon I pretty much did everything from start to finish, but it would be nice to collaborate and include other musicians in future albums, so a band name feels better from that aspect too. It allows room for expansion." (Pete)
DAVE BAINBRIDGE & SALLY MINNEAR
Award winning multi-instrumentalist Dave Bainbridge joins forces with Lord of The Dance vocalist, instrumentalist Sally Minnear to bring a spellbinding evening of music that will, in equal measure have you jigging in (or out of!) your seat or bring a tear to your eye.
A compelling mix of powerful and ethereal vocal songs (including the occasional emotive Gaelic ballad). instrumental tracks (jigs / reels / slow airs / evolving soundscapes and virtuoso improvisation on keyboards, electric guitar, bouzouki and cowbell!