Dead Boys
The Cluny, Newcastle Upon Tyne.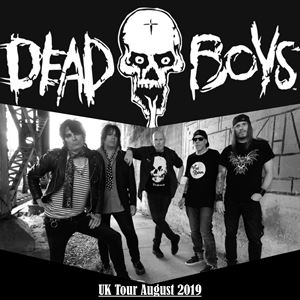 eastside events present
Dead Boys
plus guests
Newcastle Cluny
Sunday 4th August 2019
Doors 7.30pm
This event is for over 16s only - No refunds will be issued for under 16s.
More information about Dead Boys tickets
As one of the first and greatest American punk bands, the Dead Boys never played by the rules. It should be no surprise that on the 40th anniversary of their landmark debut album, Young, Loud and Snotty, they stage — not a reunion, not a revival, but something just as loud and just as snotty.
"There was never a big plan to do a reunion," original Dead Boys drummer Johnny Blitz says. "It just all fell into place. When we started out it was just Cheetah, and I in my parent's basement, so now we're back together with a few extra guys."
"It's never going to change with me and Blitz," Dead Boys co-founder Cheetah Chrome adds. "Put us in a room together, and we're right there ready to play."
Playing the hell out of rock'n'roll is exactly what Chrome and Blitz have been doing, together and separately for more than 40 years. That's evident in every note of Still Snotty: Young, Loud and Snotty at 40!, the newly released celebration album available on Plowboy Records. Not intended as a remake or replacement, it's two of the original Dead Boys to revisiting classic songs with new players, while maintaining the same spit in your eye snarl of the original band.
The road to the Dead Boys began in Cleveland in the early 70s with the legendary proto-punk band, Rocket from the Tombs. When the group split in 1975, Chrome and Blitz hooked up with vocalist Stiv Bators to form the band Frankenstein, soon changing their name to the Dead Boys.