Dead Boys
The Wardrobe, Leeds.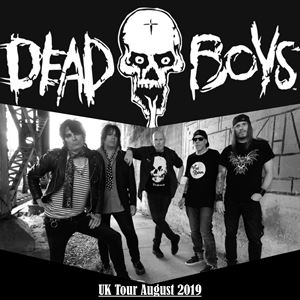 More information about Dead Boys tickets
Still Loud, Still Snotty
Cheetah Chrome and Johnny Blitz Revive the Dead Boys for a New Album celebrating 40 Years of Punk Power As one of the first and greatest American punk bands,the Dead Boys never played by the rules. It should be no surprise that on the 40th anniversary of their landmark debut album, Young,Loud and Snotty, they stage —not a reunion, not a revival, but something just as loud and just as snotty.
"There was never a big plan to do a reunion," original Dead Boys drummer Johnny Blitz says. "It just all fell into place.When we started out it was just Cheetah,and I in my parent's basement, so now we're back together with a fewextra guys."
"It's never going to change with me and Blitz," Dead Boys co-founder Cheetah Chrome adds."Put us in a roomtogether,and we're right thereready to play.
"Playing the hell out of rock'n'roll is exactly what Chrome and Blitz have been doing, together and separatelyfor more than 40 years. That's evident in every note of Still Snotty: Young, Loud and Snotty at 40!, the newly released celebration album availableon Plowboy Records. Not intended as a remake or replacement, it'stwo of the original Dead Boys to revisitingclassic songs with new players, while maintaining the same spit in your eye snarl of the original band.
The road to the Dead Boys began in Cleveland in the early 70s withthelegendary proto-punkband, Rocket from the Tombs. When the group split in 1975, Chrome and Blitz hooked up with vocalist Stiv Bators to form the band Frankenstein, soon changing their name to the Dead Boys.
In July 1976, the Dead Boys relocated to New York,quickly gaininga reputation for their combination ofthe proto-punk fervor of bands like the Stooges and the New York Dolls with a new level of energy and musical violence. Their 1977 debut LP, Young, Loud and Snotty, was a landmark album in the birth of hardcore punk and produced one of the first great punk anthems, "Sonic Reducer." After one more album, the band split in 1979. They reunited for a few gigs in the 1980s, but following the death of Bators in 1990, the band members went their separate ways,except for two brief reunions in 2004 and 2005. The new return of the Dead Boys began last year with guitarist Cheetah Chrome.
"I've had my solo band for the last ten years, and it's evolved through different people until I hooked up with Jason "Ginchy" Kottwitz down in Austin. With the 40th anniversary of Young, Loud and Snottycoming up, Jason suggested I take some time off from the Cheetah Chrome Band and do a Dead Boys celebration tour. There were reasons why the other guys couldn't do it, but Blitz and I were free, so why not run with the ball?"
With Kottwitz on guitar and Detroit punk legend Ricky Rat on bass, Chrome and Blitz recruited Jake Hout from the L.A.-based "zombie" Dead Boys tribute band, the Undead Boys, for lead vocals.
The first gig with Jake, it was like, 'You got it, man!'" Chrome says."I had friends in L.A.saying, 'Keep this guy! Keep this guy!'