Dean Friedman 40th Anniversary, 'Well, Well,' Tour
The Pizza Express Live - Birmingham, Birmingham.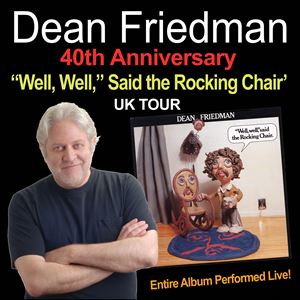 Dinner Seating 7:00pm / Showtime 8:30pm Pizza Express operates as a dinner-theatre style restaurant. Guests are seated at tables for a meal prior to show. Food & drinks offered 'extra' to £28 ticket price/seats. Ordering tickets will ALSO confirm table reservations from 7pm to showtime. Arrive early for best seating, to enjoy your meal, and the show!
More information about Dean Friedman 40th Anniversary, 'Well, Well,' Tour tickets
Dean Friedman first delighted audiences with his chart-topping hit, Ariel (in the US) and Lucky Stars (in the UK). The now classic singles, paved the way for a slew of hits off Friedman's critically acclaimed album, "Well, Well" Said the Rocking Chair', including familiar tracks, Lydia and Rocking Chair. More hits including McDonald's Girl and Woman of Mine soon followed and in a very short time, Friedman had achieved legendary, pop-icon status and was acknowledged, by critics and fans alike, as one of the finest singer/songwriters of his generation.
Here's what critics have to say:
"Songsmith extraordinaire!" - Music Week; "The soundtrack of our lives!" – New York Times; "Absolutely Fabulous!" – Hot Press; "Pop troubadour of choice!" Scotsman, "An amazing Talent!" – Sun; "Outstanding!" - Record Business; "Dean Friedman is entirely unique and utterly brilliant" – ThreeWeeks
This year, 2018, marks the 40th Anniversary of the 1978 release of Dean Friedman's best-selling, critically acclaimed, classic album, "Well, Well," Said the Rocking Chair'. The "Well, Well," Said the Rocking Chair' album contains some of Friedman's biggest chart hits, including Lucky Stars, Lydia and the title track, Rocking Chair. Friedman will mark the milestone by performing the entire album 'live', along with fan favorites from his four decade career, including familiar radio hits, as well as selections from his newest critically acclaimed album, '12 Songs'. Discover what legions of devoted fans have known for years - the sophisticated, funny and profound work of a master songsmith. www.DeanFriedman.com