Dean Wareham plays Galaxie 500 Entradas
Rescue Rooms, Nottingham.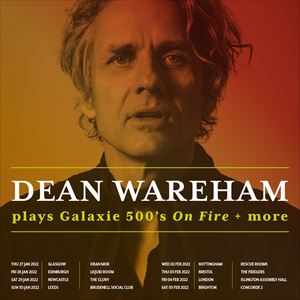 Solamente podrán acceder los mayores de 18 años - No se harán reembolsos para menores de 18 años
Más información sobre las entradas para Dean Wareham plays Galaxie 500
AGMP presents
DEAN WAREHAM plays GALAXIE 500's 'On Fire' + more
+ support:

Dean Wareham formed Galaxie 500 in 1987 with Damon Krukowski and Naomi Yang.

Galaxie 500 released three albums 'Today', 'On Fire' and 'This is our Music' between 1988-1990 before splitting.

Dean Wareham went on to form Luna with members of The Feelies and The Chills.

Luna released a series exceptional records and worked with Tom Verlaine, Stereolab and The Velvet Underground before they split in 2005.

Dean Wareham revisits the seminal 'On Fire' by Galaxie 500 by performing it in full plus more.
Galaxie 500 - Tugboat from Danieloustaunau on Vimeo.