Deez Nuts Tickets
Thekla, Bristol.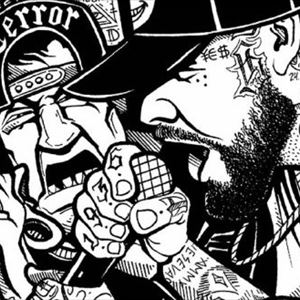 Zu dieser Veranstaltung sind nur über 14-Jährige zugelassen - für unter 14-Jährige wird keine Erstattung gezahlt.
Mehr Informationen über Deez Nuts Tickets
The Thekla is Bristol's only music venue and nightclub on a boat! From toe-tapping live Americana to the downright dirtiest dubstep this side of London and everything inbetween, we have all your musical needs covered. We play host to the cream of the city's weekly club nights as well as national and international touring live acts every week. Welcome aboard.

Thekla, The Grove, Bristol BS1 4RB
0117 929 3301
www.theklabristol.co.uk
facebook.com/theklabristol
twitter.com/theklabristol


Deez Nuts are an Australian hardcore punk band that formed in Melbourne, Victoria in 2007. The lineup currently consists of vocalist JJ Peters, guitarist Matt Rogers a.k.a Real Bad and drummer Alex Salinger.
"You Got Me Fucked Up" is the album DEEZ NUTS needed to write. JJ Peters (vocals) explains: "It's the breath of fresh air that we and our fans have been sorely missing. The thing that stands out the most about our songwriting, our performance and vibe on this whole album: We finally got our party sound back, but not in the sense of beat to death 'party' lyrics. These songs just scream fun."
DEEZ NUTS deliberately picked different locations to write and record the album, despite sticking with Andrew Neufeld (Comeback Kid, Sights & Sounds) as co-producer. "This time we wrote in Toronto rather than New York City and recorded in Los Angeles rather than Boston like we did on the last two albums. The difference the surroundings brought to the album are very much felt throughout its ten bangers."