DEHD *01280623* Tickets
Musicbox, Lisboa.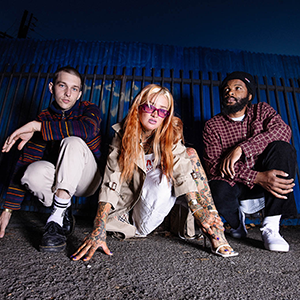 This event is for 16 and over - No refunds will be issued for under 16s.
More information about DEHD *01280623* tickets
A Crowdmusic em parceria com o Musicbox, tem o prazer de promover a estreia dos Dehd nos palcos nacionais.
Concertos a 28 de Junho no Musicbox de Lisboa e a 29 de Junho no CCOP do Porto.
A banda de Chicago vem de um excelente 4º álbum em 2022 - "Blue Skies", de onde saiu o single "Bad Love" que figurou em algumas listas de melhores músicas do ano (Pitchfork - #68 e Paste Magazine - #22).
Depois do sucesso de "Flowers of Devotion" de 2020, etiquetado de Best New Music pela Pitchfork, as expectativas eram altas. A boa receção a este 3º álbum deu acesso à banda a mais recursos para a gravação de "Blue Skies", orçamento que a banda utilizou para ter mais tempo de estúdio, criação e produção para gravar este 4º álbum e brincar com os arranjos num paraíso de drum machines e sintetizadores. A nova relação com a editora Fat Possum deu também acesso a outros recursos, como a colaboração na produção e mistura de Craig Silvey (detentor de Grammy e com colaborações com os The Rolling Stones, The National ou Arcade Fire) e de Heba Kadry (com colaborações anteriores com Slowdive, Bjork ou Cate Le Bon). Este ambiente garantiu aos Dehd as melhores condições para explorarem a sua visão para o seu som e resultou num "Blue Skies" onde a banda está melhor que nunca. Soa a Dehd, mas melhor.
Ao vivo espera-nos uma banda elétrica e pujante, liderada pela carismática Emily Kempf que encarna o espírito dos Dehd com a sua voz e atitude apaixonada, e o seu baixo potente. Tudo em Kempf é garra e atitude. Na guitarra Jason Balla dá-nos pequenos riffs que nos fazem cavalgar nas músicas, ou acordes pausados com aquele vibrato surf que nos detém por momentos. Interessante também a participação de Balla na voz, ora harmonizando com Kempf, ora a solo, dando à música dos Dehd diferentes texturas e um contraponto à voz forte de Kempf. Por fim, Eric McGrady com o seu estilo despojado, dá-nos a cola rítmica que junta este cocktail efervescente de rock pós-punk, juntando também a sua voz por vezes, acrescentando outras camadas à música dos Dehd. Na realidade, quando Balla ou McGrady assumem o papel principal na voz, os Dehd quase parecem outra banda, tal é o carisma de Kempf. Mas essa bipolaridade é também parte do encanto dos Dehd.