Della Mae (USA)
The Live Room@Caroline Social Club, Shipley.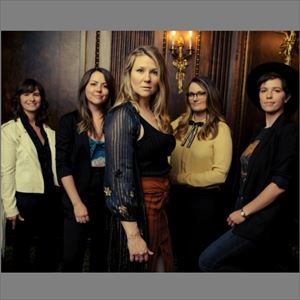 Doors at 6.30pm, show at 7.30pm
More information about Della Mae (USA) tickets
Della Mae is a GRAMMY-nominated, Nashville-based, all-female string band made up of lead vocalist/guitarist Celia Woodsmith, 2-time national champion fiddle player Kimber Ludiker, Avril Smith, Maddie Witler and Vickie Vaughn.
Hailing from across North America, and reared in diverse musical styles, they are one of the most charismatic and engaging roots bands touring today. They have traveled to over 30 countries spreading peace and understanding through music. The band released their fourth album, 'Headlight', in January.
In the making of their fourth album Headlight, Della Mae has claimed a more daring sense of freedom than they'd ever allowed themselves before. Boldly breaking genre convention, the Grammy Award-nominated band pushed beyond their bluegrass roots and followed their instinct to their most sonically adventurous body of work to date. And in lyrics, Della Mae has fully embraced the album's potential as a platform for change, delivering a collection of songs at turns fearlessly personal and powerfully resonant.
Produced by Dan Knobler (Lake Street Dive, Caroline Spence) and tracked at Sound Emporium Studios in Nashville, Headlight bears a thrillingly dynamic sound, achieved in part by enlisting a number of the MOXE musicians (including longtime Sheryl Crow keyboardist Jen Gunderman) and recording most of the album live. Still, that kinetic urgency never overshadows the eloquence of Della Mae's lyrical storytelling. "A lot of the songs are snapshots of different women at different stages of their lives," notes Ludiker. "At the same time, we were sharing very intimate things that we've personally experienced, in a way that we haven't quite done before."
'…….rootsy, gutsy and quite irresistible: violin, mandolin, banjo, guitars, double bass and voices create a sound that's brisk and richly textured' – David Cheal, Financial Times
'Della Mae seems to have narrowed its priorities to one: showcasing its combination of playfulness and muscle as a performing unit' – NPR Music