Derek Acorah - ?Love, life, laughter' Tour
VIVA Blackpool, Blackpool.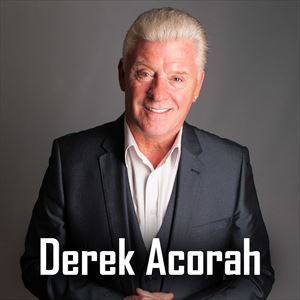 If you have chosen our Show and Dine option we need to have your pre-order a minimum of 24 hours in advance, booking within 24 hours please call to book on 01253 297297
To view our fabulous menu please click here
To submit your food choices please click here
More information about Derek Acorah - ?Love, life, laughter' Tour tickets
Derek Acorah needs no introduction.
Being the pioneer for spiritualism and mediumship on television, he is arguably the world's most renowned spirit medium having demonstrated to many hundreds of thousands of people in theatres throughout the UK. Derek's television career dates back over fifteen years when he became the first medium ever to demonstrate live on air and without the benefit of an edit suite on a weekly basis bringing hope and comfort to the viewing public.
Derek's charm and charisma has made him a most welcome guest on numerous televisions programmes. He has appeared in "Dr. Who", "This Morning", "The Weakest Link", "Richard & Judy", "Stars in Their Eyes", "Reality Bites" and many, many more. Derek has also appeared as himself in the film "Big Fat Gypsy Gangster" and the live stage show "Ghosts". In 2004 Derek received the Variety Club of Great Britain's Multichannel TV Personality of the Year Award.
Derek is the author of eleven books two of which, "The Psychic Adventures of Derek Acorah" and "Ghost Hunting with Derek Acorah", have achieved the top of "The Times" Non-Fiction Best Seller list and have been translated in to Russian and Mandarin.
After 35 years as a professional medium, Derek remains a dedicated worker for Spirit, connecting people with their loved ones in the spirit world and bringing proof of survival on a daily basis. He is also passionate about working in his investigative role in attempting to validate and confirm the presence of spirit entities in some of the world's most haunted locations.
Derek Acorah is indeed a thoroughly modern medium whose appeal crosses the generations to young and old alike and he remains the forerunner in the field of paranormal and spiritual matters. Where Derek goes, others follow. He is THE pioneer for Spirituality world wide.