Ding Dong
Teatro Armando Cortez, Lisboa.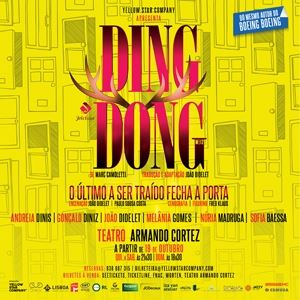 Ding Dong
This event is for 12 and over - No refunds will be issued for under 12s.
More information about Ding Dong tickets
Bernardo sabe que a sua mulher, Júlia o engana. Engendra uma maneira de vingar os seus ciúmes. Por telegrama convida o amante, Roberto para ir a sua casa, assinando o telegrama em nome da mulher.

No frente a frente entre os dois, Bernardo dá-lhe duas opções; ou o mata ou dorme com a mulher de Roberto. Depois de algumas hesitações Roberto concorda com a segunda opção. Bernardo marca para essa mesma noite um jantar em sua casa e de Júlia com o objectivo de conhecer Julieta, mulher de Roberto.

O jantar vai assim juntar os quatro mais a empregada, Maria Luisa. Mas Roberto em vez de levar sua verdadeira mulher, leva uma amiga aventureira, desinibida, mais nova e muito atraente a fazer-se passar por sua mulher… Durante as várias peripécias, incómodos, paixões que o jantar suscita aparece mais uma personagem. A verdadeira mulher de Roberto. Estão lançados os ingredientes desta louca comédia de portas. Como é que vai acabar? Nunca se sabe… Sabemos que quase todos mentem… mas será que todos traem?

Sessões:
Quintas, Sextas e Sábados - 21:30
Domingos - 18:30

PROMOTOR: Yellow Star Company