Dinner & Cruise with live music
Duna Palota, Budapest.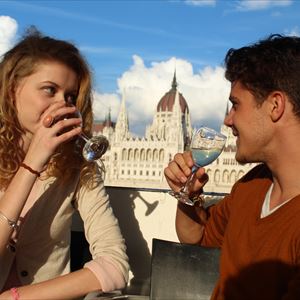 More information about Dinner & Cruise with live music tickets
The vibrant city of Budapest has various faces. At night it calms down, the lights are lit, and a new city awakens after sunset. We created this program for those, who would like to enjoy the wonderful view of the city swimming in lights, accompanied by a real candlelight atmosphere with a romantic dinner and live music. The delicious meals on our boats, are prepared by Chef Molnárka Péter.
The salon music is performed by 3 members of the Zoltán Kodály Awarded Hungária Folk Orchestra, including the world-famous violinist Zsigmond Vidák who was awarded the Bronze Merit Cross of the Hungarian Republic.
Our program takes you on a 2-hour-long cruise on one of our air-conditioned/heated ships, on which you will also have the best view of the panorama from the upper deck of the ship.
Our 'Dinner & Cruise with Live Music' program is also available with Wine tasting option: During the trip you can taste 7 different type Hungarian wines from variant organic wineries includes the famous Tokaj wine!
Wine list to taste (with wine option):
Tokaji Furmint Grand Selection
Hilltop Premium Merlot
Juhász Blue Frankish Rosé
Bodri Szekszárdi Civilis Cuvée
Bárdos Pincészet Pinot Grigio
Tokaji Szamorodni Sweet
Tokaji Aszu 3 Puttonyos