Dirty DC The tribute to AC/DC
Robin 2, Wolverhampton.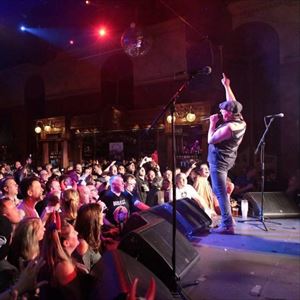 No under 14s in the standing area, 14 - 17s must be accompanied by an adult. No refunds will be given for incorrectly booked tickets.
More information about Dirty DC The tribute to AC/DC tickets
+ support Black Tree Vultures
Dirty/DC have been playing throughout the UK and Europe since 1988 and have developed a lineup and stage show that has made their reputation seriously strong amongst AC/DC fans, whether die hard fanatics or people who just want a good night out.
Every visual detail has been fine tuned from the wall of Marshalls to Angus's footwear, but most importantly the music delivery and stage show has an impact regularly described as "Awesome!".
Dirty/DC give real value for money with a full 2 hour+ show with all the AC/DC favourites from both Bon and Brian eras.
So, if you love AC/DC and really want to rock - Rock up to a Dirty/DC show soon

BLACK TREE VULTURES was formed in early 2017 with the purpose of playing music they enjoyed and have a darn good time. The bands influences range from the likes of Iron Maiden, Metallica, ACDC & Black Sabbath to Bob Dylan, JJ Kale, Dire Straits & Zeppelin. The style they play is a modernized heavy rock style drawing characteristic from all their influences, during the early months of 2017 the band worked on writing some original material and crafting a live set/sound that will support the quality of the music, within 3 months of finding a full line up they had enough material for a E.P release and set about crafting the Record.
The band started with Jonno Smyth & Aaron Hammersley both being from previous touring outfits themselves they were not strangers to the industry and Immediately went about making their mark on the world wherever they could. They wanted to get out there and show new audiences what they were made of and more importantly what they were capable of.
The band entered the studio in September 2017 to record their debut E.P "Sanity Isn't Perfect" released on BTV records via plastic head media in February 2018. The band went on to secure themselves backing from Natal Drums & Ahead Drumsticks. The band then crafted a very well written and strong live performance and took that out on the road playing towns such as Oxford, Birmingham, Southampton & Colchester. Receiving great receptions wherever they went the band landed their first main support slot supporting Snakecharmer a few weeks before their debut E.P was released.
BTV Received some amazing feedback for their debut Music video for "Overrule Me" which is the first track from the debut E.P (Sanity Isn't Perfect), which then opened the door for them to meet some new people and play some new venues to like minded people who share their passion for music.
The band are currently promoting the Debut E.P "Sanity Isn't Perfect"….
"We are very lucky to be able to perform the music that we create to people, and even luckier to receive such a great reaction from the audiences we perform too. We hope to see you guys on the road somewhere, We cannot thank you all enough for the tremendous amount of support we have been shown…. You guys are the best!" – Black Tree Vultures
Black Tree Vultures Would like to thank their sponsors:
Ahead Drumsticks