Disregard + Special guest Chris Pryke (rearranged)
The Greenhouse at Tynemouth Park, Tynemouth.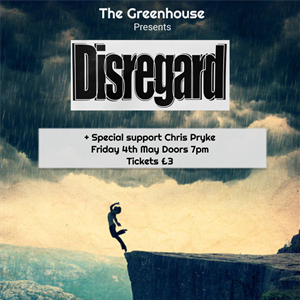 More information about Disregard + Special guest Chris Pryke (rearranged) tickets
We are extremely pleased to announce the rearranged gig for Disregard + Chris Pryke
Unfortunately we had to cancel the original gig due to adverse weather conditions which was a huge disappointment as it was all geared up to be an amazing night!
At least in May we will have lighter nights and warmer weather!!
Friday the 4th of May sees Disregard a band originally formed in the early 1990's before disbanding in 1999 reform after almost 20 years!!!
Disregard are a 5 piece alternative rock band who have a blend of music similar to that of The Groundhogs and Pearl jam.
In the 90's their original music was used by a major American extreme sports store for advertising videos.
They also played at a number of MCN bike rally events and university gigs inc supporting Space at Newcastle University!!
Playing New and old familiar songs this promises to be a fun enjoyable night!!
+ Special guest support from the extremely talented Chris Pryke!!
Tickets are only £3 and are are available from behind the bar or from the events link below