Don Broco - The Birthday Party Tour Tickets
KOKO, London.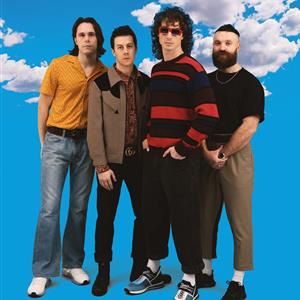 14+ only. 14s to 15s must be accompanied by an adult. No refunds will be given for incorrectly booked tickets.
More information about Don Broco - The Birthday Party Tour tickets
With electro, rock, pop, metal and more all wrapped up in their own unique blend, bringing to mind the likes of Deftones, Beastie Boys, Linkin Park and Limp Bizkit amongst others, Don Broco are always unique, and forever pushing boundaries.

Exclusive KOKO ticket holder offer



Cafe KOKO, the newest extension of our historic music venue, offers day-to-night dining making it the perfect spot for your pre or post show food and drinks. For an exclusive ticket-holder offer, show your valid ticket on the day of the event for 10% off your bill (10% off is not valid with any other offers).

Tucked behind the iconic KOKO music venue, we are a lively tap bar and eatery, reminiscent of laidback Italian trattoria culture. With weekly live music, DJs, Cafe KOKO offers an incredible selection of sharing plates, salads, and mains, alongside wood-fired pizzas topped with winning combinations and decadent desserts.

Opening Hours
Monday: Closed
Tue-Thurs: 12pm-12am
Fri-Sat: 12pm-1am
Sun: 12pm-5pm

More info on Cafe KOKO



Following their incredible main stage performances at Reading and Leeds Festivals last weekend, DON BROCO hit the road again in the UK this autumn. Having blown audiences away in March when they headlined huge venues including the likes of Alexandra Palace and Cardiff Motorpoint Arena, DON BROCO will be taking to the stages of some of the smallest venues they've played in years.

Vocalist Rob Damiani reveals, "We're buzzing to be heading out on The Birthday Party Tour in November and December, hitting up some of our favourite spots in the UK that we haven't been to in a little while and some future faves we've never been to before! BROCO at KOKO the first time around was a huge night for us and can't wait to be back for round 2!" To celebrate the news, the band will be releasing a brand new single on September 15th. 'Birthday Party' is yet another left-turn from the Bedfordshire four-piece, who continually evolve and surprise with new musical directions. A skittery, genre-bending electro-blast of crunching beats and distorted guitars, it's topped off with Rob Damiani's ennui-drenched vocals, full of disappointment and dismay.

As he explains, "Birthdays can be the absolute worst. You get all hyped up for what you think is a guaranteed top day, but when that doesn't work out you can't help but feel EXTRA bad. I don't really like birthdays because of this, but one year tried throwing a last min shindig and in classic form it was not well attended, haha. I can't say I took it well but my only option was having a party for one and this song is the story of that night."

The 15-date Birthday Party Tour will be a much more celebratory affair, with DON BROCO playing a hits-packed set and getting up, close and personal with their exuberant fan-base. Making the shows even more special will be the fact that anyone with a ticket who is celebrating their birthday on the day of each gig will be treated to their own mini-birthday party by being invited to an exclusive meet-and-greet with the band before the show. Full details will be revealed on the band's website in due course.