DONNY BENET *01170822* Tickets
Musicbox, Lisboa.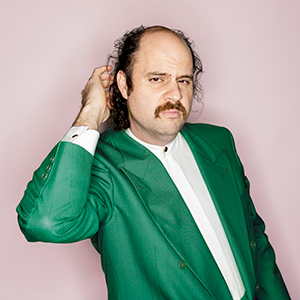 This event is for 16 and over - No refunds will be issued for under 16s.
More information about DONNY BENET *01170822* tickets
Mr Experience. Konichiwa. Santorini. Estas canções dão um pequeno trago do enigma que é Donny Benét. Elogiado por críticos como um "Prince com um sério corte de orçamento", Donny Benét é mais bem descrito como o sobrinho favorito para os Tios Giorgio Moroder, Alan Vega e Michael McDonald. De Sydney, Austrália, o seu álbum de estreia confundiu e intrigou muito, estabelecendo-o como uma figura de culto na cena musical australiana. A sua piece de resistance chegou com o seu quarto disco "The Don", com o single Konichiwa. Um inesperado convide para o Pohoda Festival (Eslováquia) em 2018, permitiu ao Donny embarcar na sua primeira tour europeia. Regressou para mais 4 tournées esgotadas, já com uma nova base de fãs estabelecida neste continente. 2019 foi o ano de abrir para Mac DeMarco na sua tour europeio, depois de surpreender o publico voltou em 2020 para a sua primeira tour como cabeça de cartaz. Entre o seu calendário frenético de tours, Donny escreveu e gravou o seu agora aclamado disco "Mr Experience", que foi lançado em 2020. Impedido de viajar com o disco, foi filmado como um concerto online chamado Live Experience. Durante 2021, Donny compões e gravou o seu primeiro EP instrumental Le Piano, que será lançado em 2022. Enquanto perfecionista, Benét escreve, toca e grava tudo por sua conta nos seus Donnyland Studios. Usa apenas sintetizadores e caixas de ritmos vintage para apresentar a sua visão da vida, amor e relações, tudo através do poder da canção. É acompanhado pela sua banda The Donny Benét Show quando toca ao vivo. Donny já toca na Austraulia desde 2011 e na Europa/US desde 2018, regularmente esgota concertos e é membro assíduo de festivais. Os destaques incluem: Rock Werchter, Down the Rabbit Hole, Pohoda Festival, Valkhof Festival, Plissken Festival, Sydney Festival, Darwin Festival, Vivid Festival, Adelaide festival, MONA FOMA, Panama Festival, Yours and Owls, Big Day Out.