Down With Homework: The Simpsons Pub Quiz Tickets
Chapeltown Picture House, Manchester.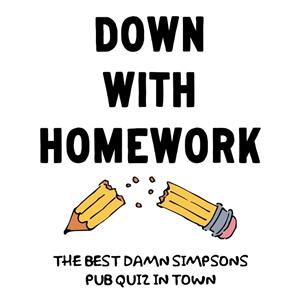 More information about Down With Homework: The Simpsons Pub Quiz tickets
The best damned Simpsons Pub Quiz in town is back! Down With Homework returns to Chapeltown Picture House for a Halloween special. Hosted by veteran Manchester quizmaster John Stansfield (Quizimodo, Pencil's Down), Down With Homework promises to take a deep dive into Simpson lore to separate the Radioactive Men from the Radiation Dudes. Taking place at 3pm on Sunday 30th October, this is a quiz for true Simpsons fans who feel they're the most knowledgeable in Manchester.
Prizes come courtesy of Simpsons bootleggers The Second Best Damn Pet Shop in Town and fancy dress is encouraged with extra gifts for the best dressed. Teams no bigger than 6 are permitted.
A noble spirit embiggens the smallest man.