Dread Sovereign + The Flight Of Sleipnir Tickets
The Black Heart, Camden, London.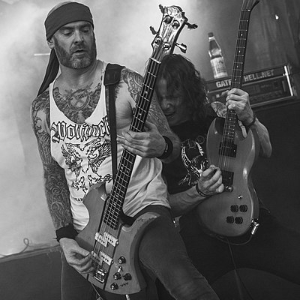 More information about Dread Sovereign + The Flight Of Sleipnir tickets
Facebook event

PILGRIMAGE TO DOOMSDAY EU TOUR

Dread Sovereign
"Ein Bild, das Person, sitzend, Mann, Foto enthält. Automatisch generierte Beschreibung"

DREAD SOVEREIGN is the phantom limb of Nemtheanga from PRIMORDIAL, formed almost a decade ago to play nasty, filthy, cryptic, dark, obscure doom with the rotten touch of old school Heavy Metal, think Hellhammer meets Venom, meets Hawkwind and Sabbath, they have released one 12" on Roadburn Records to co-incide with their first ever gig, and two albums on cult label Van Records! the new album is due out on January 2021 via Metal Blade Records.
Their raucous and rough live shows are the thing of scummy dive bar legend! Nemtheanga/Bones and JK are bottom of the barrel Irish dirtbags….make no mistake!!!
http://dreadsovereign.bandcamp.com

The Flight Of Sleipnir
The band was formed in the winter of 2007 by David Csicsely and Clayton Cushman. The name refers to Sleipnir, the horse of Odin. In 2008 a first demo followed under the name Wisdom Calls for Sacrifice.
After the release, the band's first concert followed at the winter solstice. Since then, a concert has been held annually on this date.
The band then began work on their debut album, which was released in 2009 under the name Algiz + Berkanan on No Colors Records. Another album followed in 2010 under the name Lore.
The albums Essence of Nine and Saga were then released via Eyes Like Snow. This was followed by a change to Napalm Records, about which V. appeared in 2014.
https://theflightofsleipnir.bandcamp.com/

Monday 31st October 2022
The Black Heart
Doors: 7pm
Tickets: £13 ADV