Du Blonde Tickets
The Castle and Falcon, Birmingham.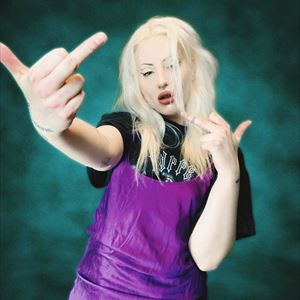 This event is for 14 and over - No refunds will be issued for under 14s.
More information about Du Blonde tickets
Du Blonde is back with new album 'Homecoming' and with it, her own record
label, clothing brand and all-round art house Daemon T.V.
Written, recorded and produced by Du Blonde (aka Beth Jeans Houghton),
'Homecoming' is a refreshing taste of pop-grunge finery, featuring guests
including Shirley Manson, Andy Bell (Ride/Oasis), Ezra Furman, The Farting
Suffragettes, and members of Girl Ray and Tunng.
'Homecoming' began as a few songs hashed out on a porch in LA in early 2020,
and as Houghton's desire to create something self-made and self-released
merged with the oncoming pandemic, Beth found herself recording the entire
album in her bedroom in London, drinking coffee until 4am and chain smoking
cigarettes (which she insists she has now quit).
"I started writing this record in December last year. I was renting a room in LA from
my friend and I was having a pretty bad time. My anxiety and depression were at a
point where it was a struggle not to cry while ordering a sandwich. I'd gone out there
to write, and once I got there I found out my guitar had been stolen and I couldn't
afford to buy a new one." A saviour emerged in the form of Jeff Garlin (the gravel
voiced star of The Goldbergs and Curb Your Enthusiasm). "My friend Ezra Furman
had a show at Largo in Hollywood and the three of us were in the green room when
Jeff heard my guitar had been stolen. It turns out he's a huge guitar nerd, we're both
into classic rock, and so he helped me out and provided me with a guitar to write the
album with. He brought it round to my house and as soon as he left I wrote
'Undertaker' and the rest of the songs followed just as quickly. I think it's a magic
guitar."
Fans of Du Blonde's previous two studio albums (2015's 'Welcome Back to Milk'
and 2019's 'Lung Bread for Daddy') might be surprised to find that 'Homecoming'
takes on the form of a pop record. The garage rock, grunge and metal guitar licks
that have come to define Du Blonde are still there in spades, but as a whole the
direction of the album is pop through and through. Houghton's freak flag is still flying high however, a fact that's no more apparent than
on 'Smoking Me Out', a bizarre mash up of 80's shock rock, metal and 60's pop
group harmonies. Opening with a horror dialogue befitting of halloween ("You sick
fuck / together we're just two sorry burgers of human meat") the track sees us
cowering in Du Blonde's underground lair as the singer chastises the listener for not
loving her like she deserves. As we reach the end of the verse however, an evil
cackle makes way for a cascading and driving chorus so melodic it wouldn't be out
of place on a family friendly TV show from 1964.
If we've learned anything from Du Blonde so far it's that she'll never stay in one
place for long, and 'Homecoming' will be a work of its own and not an indication of a
permanent shift in musical direction. So, is pop here to stay? "God no, my next
record is happy hardcore" she grins.