Dutty Moonshine Big Band - Brighton
Concorde 2, Brighton.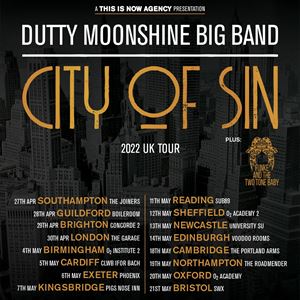 NEW DATE - APRIL 29TH 2022 - ALL TICKETS STILL VALID
14s - 16s must be accompanied by an adult. No refunds will be given for incorrectly booked tickets.
More information about Dutty Moonshine Big Band - Brighton tickets
NEW DATE - APRIL 29TH 2022 - ALL TICKETS STILL VALID

After a whirlwind tour of the UK in the Autumn of 2018, Dutty Moonshine Big Band will be back on the road in 2022 with an abundance of dates, a brand new stage show and bags upon bags of new and unheard bass driven treats.
2019 witnessed the biggest and baddest festival season for the 14-piece onslaught and saw them conquer stages at the likes of Wilderness, Beatherder, Glastonbury and Valleyfest with a unique take on 1920's jazz that has been fused together with future sounds from the bass music underground and fronted by two of the UK's best MC's, Maria Laveau and Hyperman Sage.
Playing 20-dates across March and April, Dutty Moonshine Big Band are heading to a city near you. It is time to get ready for the unexpected.
Tickets go on general sale via www.duttymoonshine.com on Friday 25th October at 10am.
Tickets on sale 29th June from Skiddle.
"One of the most unique bands you'll ever see!"
14-piece Jazz trained big band fronted by Grime MCs playing everything from huge Garage bangers to intelligent Jazz covers. They're the act that everyone can enjoy and they fuse sounds and styles that you could only dream of.
The band consists of multiple acts assimilated into one super band. Featuring live drums and a 7 piece brass section courtesy of Temple Funk Collective, vocals from Hypeman Sage and Maria Laveau, DJ and production from DJ Binge, guest appearances from Howla on guitar and production and Chessi on Harp. All of this mayhem fronted by the man Dutty Moonshine himself. A charismatic ex-carny who grew up with Jazz music at home and warehouse raves on the weekend.
Year in, year out they're filling festival arenas and nightclubs with their action packed, one-of-a-kind show. They're independent, they're original, they're carving a path of undeniable success and they're touring the UK this Autumn.
Tickets are £15 and are available from
The band have a consistent record of selling out in advance