Dylan Cartlidge Tickets
Georgian Theatre, Stockton-On-Tees.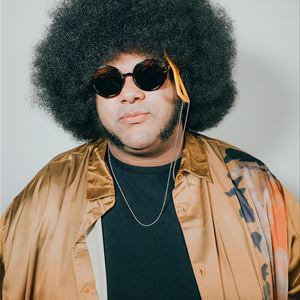 Under 14s must be accompanied by an adult. We cannot issue refunds to under 14s who are not accompanied by an adult.
More information about Dylan Cartlidge tickets
Dylan Cartlidge has always planned for his music to deliver the message he had once desperately needed; the idea that while you can't choose the hand that's dealt to you in life, you have the power to make choices to determine your path going forward. As a survivor of childhood trauma and abuse and being raised in the care system, Dylan understood what it was like to be isolated and on a quest for a more hopeful narrative. His new mixtape loudly broadcasts his message of hope above adversity for all. Dylan's story is one of rising above hardship, refusing to become another statistic, and using his trauma to create something meaningful for others going through hard times. Whether that's struggling with their mental health or feeling like they don't quite fit the mould of society's expectations. Dylan's record is an ode to embracing individuality and defying the odds associated with a turbulent upbringing.
Dylan credits his scattergun approach to genre with an overactive imagination and PTSD from his traumatic childhood. His subversive and eclectic take on underground hip-hop led to early comparisons to Outkast and a collaboration with Jamie T. However, the debut mixtape he'd always imagined remained a pipe dream for the 25-year-old as he put his earliest material into two EPs; 2019's Monster's Under The Bed and Yellow Brick Road, released a year later.
By early 2020, as Britain was first entering lockdown conditions, Dylan found himself searching for a new way forward with just a handful of demos for new material and a world shrinking as a means of survival. Lockdown offered a "long hard look in the mirror," not least because the longtime asthma sufferer was forced to shield at his partner's home in Middlesbrough. Turning the family home into a makeshift studio, however, brought Dylan a new perspective on his musical journey. "I was able to see myself in a way I'd never seen myself before," he explains. "It was through that I realised I had been putting a lot of pressure on myself to make this project in the exact way I'd envisaged it. It left me with no room for growth."
Dylan's story is one of the underdog prevailing against the odds so it was unlikely that even a global pandemic would stop him from making his way forward for too long. That's not to say that there wasn't a six month period of "bashing my head off a brick wall" in lockdown but this eventually led to a breakthrough. "I naturally started doing things I wouldn't have done, working with new people and have ended up making this bluesy gospel project I had no idea was in me."
Among the new collaborators who helped shape this new path (via Zoom, naturally) was Ed Irwin-Singer of Glass Animals. The pair had worked together on Dylan's live show in the past but finally got to writing together with the indie band's bassist offering tips on how to modernise Dylan's passion for classic influences. "I love a lot of old music and enjoy that retro sound," Dylan explains. "But Glass Animals are on the cutting edge of new music so Ed showed me a few modern production techniques and ideas that I'd not considered before because I was so determined to make something sound like it came straight from 1974. Through him I learned to be a bit less rigid and to broaden my mind as to what a song can be."
"Molasses (Walk The Walk)" is the first taste of Dylan's new music. With machine gun drums and a slick funk bassline, the song straddles fifty years of modern music sounding as if Timbaland got in the studio with Sly and the Family Stone and invited Beastie Boys along for the ride. The song is confident and robust in stature but it came from a vulnerable place Dylan explains that "the track highlights the dissonance between confidently setting yourself towering expectations and inevitably crumbling under the pressure of achieving those goals. The song serves as a reminder that putting too much pressure on yourself or setting the bar too high will inevitably result in burnout and struggling to get back to being the person who made all those promises in the first place. It's important not to get too hung up on not feeling like yourself, because growth is not linear and takes time."
Similarly influential were collaborators Al Shux, James Dring, and Saint Francis Hotel plus Eg White, a songwriter whose credits include smash hits for Adele, Florence and The Machine, and Sam Smith. It was with White that Dylan crafted the bulk of his new material and with it a gospel-influenced sound. There are echoes of Al Green, Nina Simone, and Aretha Franklin in songs like "Hang My Head" and "Anything Can Happen," technicolour pop hits filled with soul and exultation. Dylan talks of an unlikely relationship with White ("He's invested in the idea of craftsmanship in music while I'm a kook sitting in my underpants looping samples together and rapping over the top of them") but a special one nonetheless. The handclaps on "Hang My Head" were recorded in the street outside White's London home having taken inspiration from a trip the producer took to Zimbabwe with his family.
The gospel influence on Dylan's music blends in alongside his bluesy hip hop beats and, while not a religious person himself, the music's ability to act as a vessel for bigger ideas lends itself well to his directive-driven music. "I'm a big believer in delivering a message with your music," Dylan says, "and gospel is the ultimate expression of that. There's no greater time capsule."
By looking to the past while also embracing the future, Dylan eventually found the path to creating a project that outstrips the one he grew up imagining. "It's the story of hope above adversity, mental health awareness, poverty, abuse, post-traumatic growth and the people I have known who haven't had the same opportunities in life," Dylan explains of the mixtape's themes. In many ways it's a redemption story and acts as a message to anyone else on a similar journey to me."
By delivering a snapshot of who he is right now Dylan has been able to continue spreading his unflinching storytelling and message of positivity unabated. As he has said before, life isn't fair but the way you react to it isn't pre-determined either. After all, there's no circumstance like a pandemic to show that you must always cling on to hope through adversity.