Ed Sheeran
Etihad Stadium, Manchester.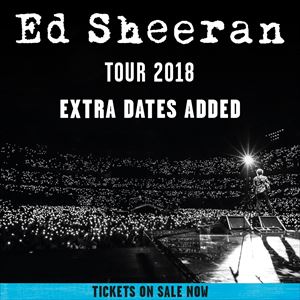 Ningún menor de 12 años en la zona sin asientos, los menores entre 12 y 16 años deben estar acompañados por un adulto. Ningún reembolso se asignará en caso de error al reservar.
Más información sobre las entradas Ed Sheeran
Accessibility tickets are to be sold by the venue and can only be purchased viaphone or in person.

The Phone lines are open: Saturday 8th July. 10-5
Monday-Friday 9-5pm except, Thursdays 10-5pm.

Click here for more info

Telephone number - +44 161 444 1894

Age restrictions - All individuals must have a valid ticket, including babes in arms, though it is recommended that children Under 5 do not attend these events.



Max 4 tickets per order

Hey...for this tour I've teamed up with a company called Twickets - which is a safe, sensible and fair place for people to sell or buy any spare tickets they have for the shows. Via Twickets, everything is at face value (or less), so you're protected against fraud and hideous overpricing.

I'd ask all of you to use them and no other of these so called 'secondary sellers' - no matter how legit they look, this is by far the best option, so please...only way you should go for any spare tickets is Twickets

Click here to see FAQs.