Eddie Izzard: Still Standing
Live Stream, London.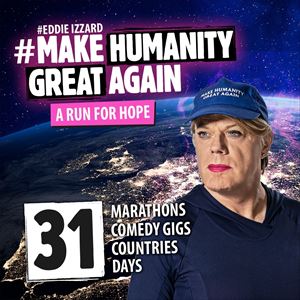 "At a time of great separation, it is good to make even stronger connections than before, to work together, to be tolerant and make this a world where everyone has the right to have a fair chance in life." - Eddie Izzard.
More information about Eddie Izzard: Still Standing tickets
31 marathons & 31 stand up gigs, in 31 countries, in 31 days... all from Riverside Studios, London....

Having completed a daily marathon Eddie will jump straight off the treadmill and run on stage to perform a nightly "Best Of" stand up gig - Eddie Izzard Still Standing. The gig will be streamed live to a global audience. All profits from Eddie's challenge and gigs will go to a range of incredible charities that are helping to MAKE HUMANITY GREAT AGAIN.