Eddie Izzard: Wunderbar auf Deutsch
Live Stream, London.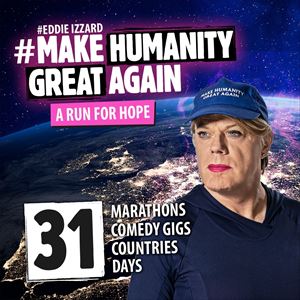 "At a time of great separation, it is good to make even stronger connections than before, to work together, to be tolerant and make this a world where everyone has the right to have a fair chance in life." - Eddie Izzard.
More information about Eddie Izzard: Wunderbar auf Deutsch tickets
This show will be performed entirely in German.

2019 war Eddie auf Welttournee mit seiner jüngsten Stand-up Comedyshow Wunderbar: Ein Programm, das er zuerst auf Französisch und Deutsch entwickelt hatte. Jetzt gibt es die seltene Gelegenheit, Wunderbar komplett auf Deutsch zu sehen: In einer Covid 19 gerechten, abstandsgeregelten 60-Minuten-Version. Live in den Riverside Studios London.


In 2019, after first developing the show in French and German, Eddie's latest Stand-up Comedy show Wunderbar toured the World. This is a rare chance to see Eddie return to performing Wunderbar entirely in German in London in a 60 minute socially distanced COVID safe live show at Riverside Studios.


The gig will be streamed live to a global audience. All profits from Eddie's challenge and gigs will go to a range of incredible charities that are helping to MAKE HUMANITY GREAT AGAIN.