Eddie Izzard: Wunderbar en Francais
Live Stream, London.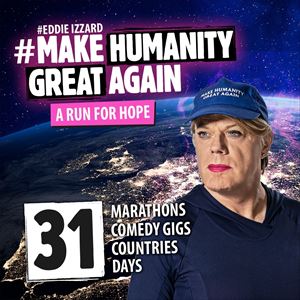 "At a time of great separation, it is good to make even stronger connections than before, to work together, to be tolerant and make this a world where everyone has the right to have a fair chance in life." - Eddie Izzard.
More information about Eddie Izzard: Wunderbar en Francais tickets
This show will be performed entirely in French.

En 2019, après la création du spectacle d'abord en français puis en allemand, « Wunderbar » la dernière comédie Stand-up d'Eddie a fait le tour du monde. C'est une opportunité exceptionnelle de voir Eddie présenter à nouveau « Wunderbar » entièrement en français à Londres, dans un spectacle live de 60 minutes, à distanciations anti-covid sécurisées, au Riverside Studios.


In 2019, after first developing the show in French and German, Eddie's latest Stand-up Comedy show Wunderbar toured the World. This is a rare chance to see Eddie return to performing Wunderbar entirely in French in London in a 60 minute socially distanced COVID safe live show at Riverside Studios.


The gig will be streamed live to a global audience. All profits from Eddie's challenge and gigs will go to a range of incredible charities that are helping to MAKE HUMANITY GREAT AGAIN.