Electric Escape: Synthwave & Synthpop night Tickets
The Picturedrome, Northampton.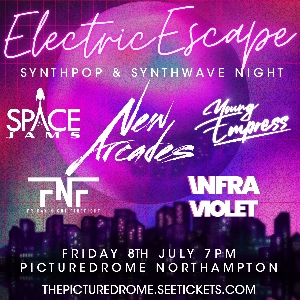 This event is for 18 and over - No refunds will be issued for under 18s.
More information about Electric Escape: Synthwave & Synthpop night tickets
Electric Escape: Synthwave & Synthpop night
Doors: 6:30pm
Date: Friday, 8th July
New Arcades
New Arcades are a London based, synth-pop / electronic music duo consisting of Dean Canty and Adam Sullivan, using a mixture of vintage synthesizers, pop melodies and electronic elements to create a nostalgic, 80's inspired sound.
Their music has appeared on films such as 'Already Tomorrow in Hong Kong' and 'A Light Beneath Their Feet' and they have also contributed an exclusive track for the mobile game 'RetroDrive'.
They have previously played various shows in the U.K as well as a live studio session for BBC Radio.
They released their second album, In the Deepest of Dreams, on September 17th 2021 via New Retro Wave Records.
They are currently releasing music through AWAL and New Retro Wave Records.
Links:
https://www.facebook.com/newarcades
https://www.instagram.com/newarcades/
Young Empress
Young Empress are a Synthwave duo inspired by movie soundtracks and 80's nostalgia. With a shared love of classic synths and haunting guitars, powerful harmonies and punchy 80's inspired drums. Their love of film and television has helped them shape a sound that transports you straight from your 9-5 right onto the set of stranger things. Their debut single Peacemaker has bounced from the studio with everything needed for an epic cinematic soundtrack. The duo signed to Aztec Records in 2021 and are due to release their debut album later this year.
Links:
https://www.facebook.com/yngempress
https://www.instagram.com/yngempress/
Friday Night Firefight
A blend of reflective songwriting, 80s stylings and pop punk inspired delivery, Friday Night Firefight catches both aesthetic of SynthWave artists such as The Midnight and the energy of Angels & Airwaves. Friday Night Firefight, from the south coast of the UK, have just released their debut album 'Invisible Kids' through Aztec Records.
Links:
https://www.facebook.com/fridaynightfirefightmusic
https://www.instagram.com/fridaynightfirefightmusic/
Infra Violet
"A record full of heart that others will struggle to match. Stunning. Distinctive, strong, effortless…inspiringly catchy. The next step of Synthwave." 4/5 THE EXPRESS
Infra Violet are a Synth-pop/Indie pop duo based in the UK. A collaboration between producer Toby Campen's 80's inspired synth tracks, and singer-songwriter Beth's intricate guitar & soulful vocals.
Forming in early 2020, the duo already has successful debut releases of their singles 'Polaroid' 'Water' and 'Radio', mastered by Pete Maher (Depeche Mode, U2, The 1975). They've gained regular international radio play including BBC Radio, Phoenix FM & Nightride FM.'Dream Tether' is their debut album, released to overwhelmingly positive acclaim. Pushing the boundaries of Synthwave by combining singer-songwriter, rock, fingerstyle & EDM influences, Infra Violet have poured everything into an emotional, passionate & bold debut. Now on their debut UK tour Summer 2020.
Links:
https://www.facebook.com/InfraVioletUK
https://linktr.ee/infravioletuk
https://www.instagram.com/infravioletuk/
Plus very special guest Space Jams: sending off the night with a DJ set of all things 80's and Synthwave.
https://www.facebook.com/SpaceJams