Elvana: Elvis Fronted Nirvana
The Empire, Middlesbrough.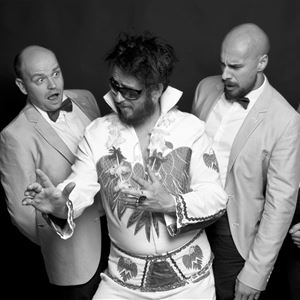 Cet événement est réservé aux personnes de plus de 18 ans. Aucun remboursement ne sera accordé aux personnes de moins de 18 ans.
Plus d'informations sur les billets Elvana: Elvis Fronted Nirvana
THE WORLD'S FINEST ELVIS FRONTED TRIBUTE TO NIRVANA! From the bowels of Disgraceland, Rock & Roll icons of the afterlife are raised from the dead! Rock & Roll meets Grunge as Elvis fronts Nirvana and gives the band the front man it's been missing since '94. Elvana tear through Nirvana's catalogue whilst splicing in grunged up sections of the king of rock & rolls finest moments, culminating in a whopper mash up of overdrive & old school Rockabilly. It smells like cheeseburgers and teen spirit, daddy-o!